Insert Comments With PowerPoint 2010 Slide Content
To add a small note with an element of slide, you can make use of comments. It would help your audience to better understand your concept/idea. Lets take a look at how to insert comments in the slide.
To insert comments in slide, place the insert cursor where you want to insert comments and navigate to Review tab, click New Comment.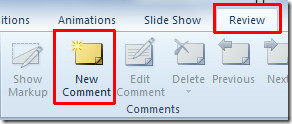 A box will pop-up, enter the comment you want to insert and click outside of comment box to attach it.