Make Outlook 2010 Update Send/Receive Process Before Exit
Outlook 2010 Send/Receive is responsible for checking new mail items and other updates in all the included mail accounts, if you need to always run this process before exiting Outlook, you can easily set it up in this way. To make Outlook always perform Send/Receive update on exiting, head over to Send/Receive tab, and from Send/Receive Groups options, click Define Send/Receive Groups.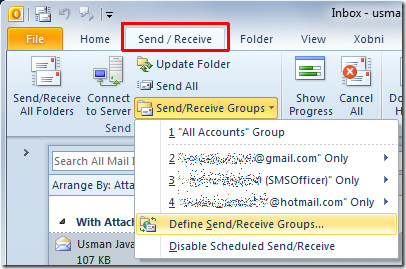 This will open up Send/Receive Groups dialog, now enable Perform an automatic send/receive when exiting option and click Close. This will perform send/receive update on exiting.