Outlook 2011 For Mac Review: What's New?
The much awaited Microsoft Office app for Mac OS, Outlook 2011 clinched its place back into Office 2011 suite with an eternal extinct of Microsoft Entourage. Like other Office 2011 pendants, Outlook 2011 has been spruced-up with enhanced UI (User Interface) ribbon, containing tabs with respective groups.
Using native Apple's Cocoa platform, ribbon is revamped and looks more weaved-in with Outlook 2011 window. Adding more, it allows smooth sliding between tabs and order of tabs can be rearranged.
For capacitating potential advance-users, Outlook 2011 also adds VB language support, so you can add, create, customize and modify macro functions as required. Under Developer tab, which can easily be revealed from ribbon options, you can start creating macros, view VB code, design and customize existing forms and do much more.
With PST import support, you will be able to move your PST, archives (Outlook items repository) from Microsoft OS (Windows) platform to Mac and vice versa. Getting started with Outlook 2011 for setting up IMAP account, the configuration is extremely easy and you will be able to setup your GMail, AOL, Yahoo, etc account in Outlook 2011 in just few clicks.
Outlook 2011 seems much like latest Outlook 2010 for Windows, making it easier for Windows users to use the same client on a Mac. Apart from UI interface, it also been upgraded with a lot of new features. You can easily setup as many IMAP accounts as desired. With improved sharing capability of Outlook items; calendar, meetings schedules, appointments, events can easily be shared. Other notable features and tools have also been revamped in Outlook 2011. Now there are multiple options available for creating and adding appointments in Calendar, managing events and most importantly, organizing important calendar items are much easier in Outlook 2011. It also provides convenient way for taking notes with an option of sharing and sending them to peers and friends.
Take a visual tour of Outlook 2011 below.
Create Email Account

Main outlook window

Main Mail Window
Mail Tabs

Mail search tab

Main Contact Window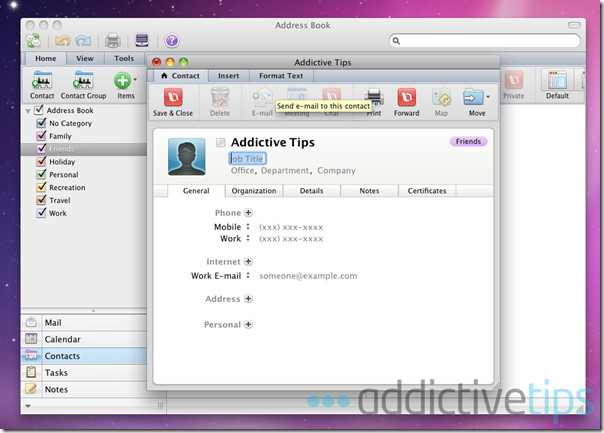 Contact tab

Tasks Main window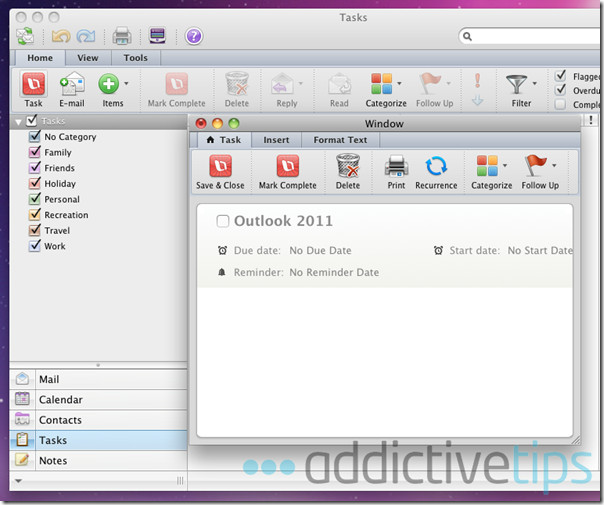 Calendar main Window

Calendar options

Adding An Email Account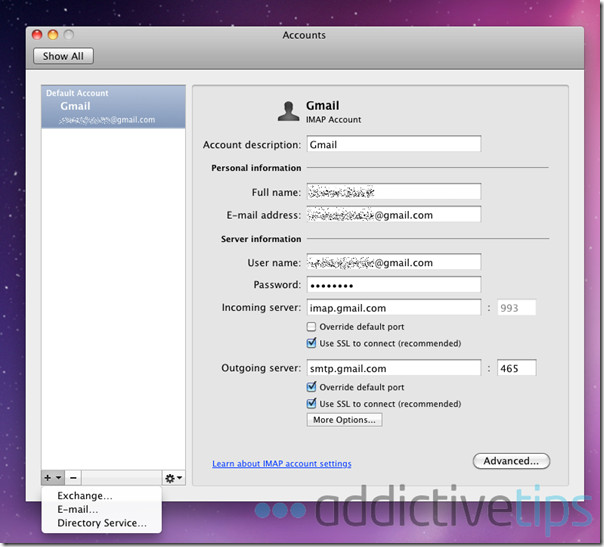 You might also be interested in reading reviews of other Office 2011 suite apps for Mac;