PowerPoint Timeline Control: Control MS PowerPoint Slide Time Duration
MS PowerPoint presentations are often used by students, entrepreneurs, managers and the like for presenting ideas,  forecasts, and statistics to a group of people. Being able to present an interesting presentation is not just important for students but also for manager and entrepreneurs to be able to brief employees, business associates and clients. When creating PowerPoint timelines, it is necessary to keep in mind the various visual aspects of the presentation. This includes displaying a lively presentation with the right blend of charts and stats within a visually appealing style and setting the accurate duration of each slide that is projected. We previously covered a Microsoft PowerPoint add-in known as Office Timeline, which makes it easy to create stunning office timelines within a short period of time. This time we have PowerPoint Timeline Control add-in for controlling the display duration of slides. Using Timeline Control, you can set the precise duration of  the display length of each slide with the option to set slide alignment.
Once installed, Timeline Control automatically adds an extra tab to MS PowerPoint. This tab contains option to set slide time, title and position. Timeline Control works from the system tray and provides updates when a slide within the current project is updated.
To set the precise time frame, click the data Wizard option, select a slide name from the drop down menu of the new window that pops up and adjust the seconds, minutes and hours slider to set a display time for the selected slide. You can also enable Full Screen mode for displaying the slide. This way, you can select certain slides to be displayed in full screen mode (e.g. large charts) and keep the others in normal display mode.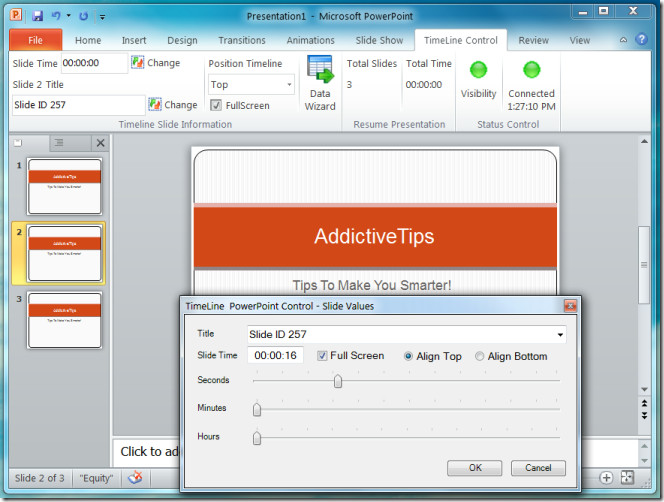 From the system tray menu, you can Start the presentation, hide timeline bar, enable Full Screen mode for the presentation, navigate between slides, check if Timeline Control is connected to MS PowerPoint and select an alignment for the Timeline Control bar.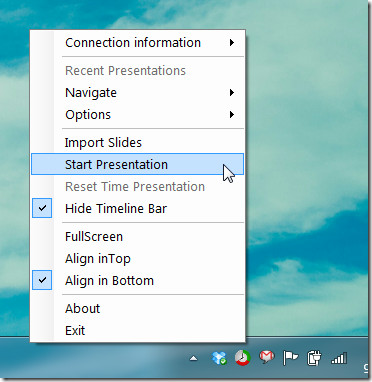 Timeline Control displays a red progress bar which shows the remaining timeframe during the presentation. This time line can be switched on/off from the Visibility button from the timeline tab within MS PowerPoint.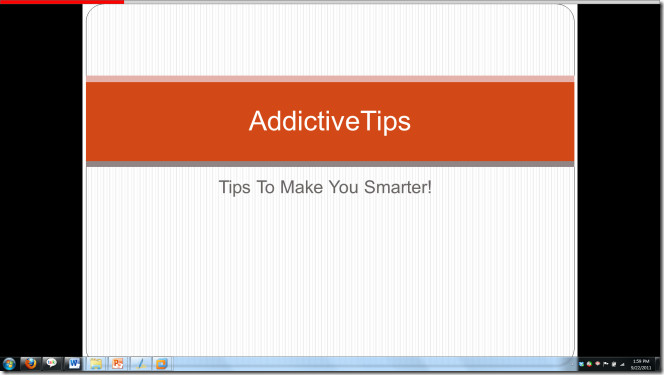 PowerPoint Timeline Control works on MS Office 2010 and requires .Net Framework 4 to work.
Download PowerPoint Timeline Control