Track Changes In Word 2010 Document
Track Changes feature allows MS Word to keep track of the changes you make in a document. It is also known as redline, or redlining. Its real usage can be seen when, two or more persons need to edit the document. In that case, you would like to know which changes have been made to it or which content is deleted, inserted,or formatted. Through this feature you could track almost every change that has made to the document. This post demonstrates how to make Microsoft Word 2010 track the changes.
Launch Word 2010, create a document on which you want to apply track changes. For instance, we have a document on which we need to observe changes users have made to it.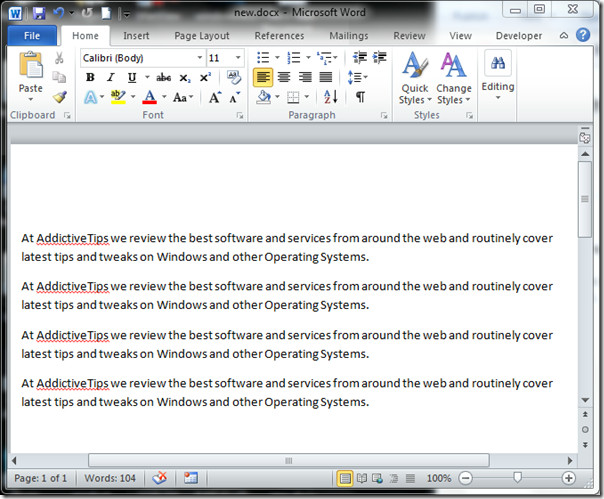 To start off with it, navigate to Review, and from Track Change click Change Tracking Options.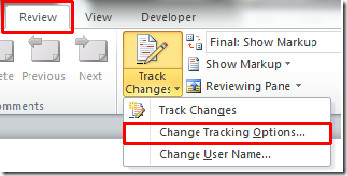 You will reach Track Changes Options dialog, here you can play with loads of options to mark the changes in desired way.
Under Markup, you can change the marks which will show for; Insertions, Deletions, Changed lines, and Comments. You can also associate different colors with each of them.
Under Moves, enable Track Moves options to make Word track movement of content, here you can customize the way Word shows any recent movements, you can observe it, if content of the document is Moved From and Moved to somewhere, by selecting  different colors. From Table cell highlighting, you can observe changes, if someone insert cells and delete cells in the table, select different colors for respective actions.
If you want to track changes for formatting, enable Track formatting option from Formatting, select type of formatting you want to observe and select a color to distinguish formatting change from other track changes. Under Balloons, you can choose different options for noticing any changes to Print & Web layout. If you want to force orientation of the page, select Force Landscape as shown in the screenshot below.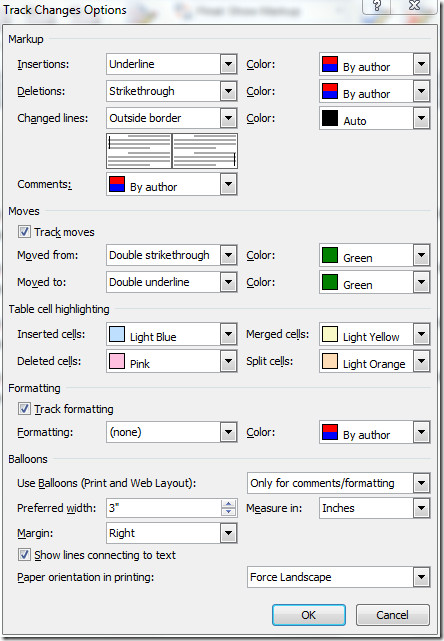 Navigate to Review tab, and from Show Markup drop-down menu, you can enable multiple options to keep track changes against them. For example, if you want to observe any changes regarding insertion or deletion of content, then disable all except Insertions and Deletions.
Now on Review tab, click Track Changes to make Word start tracking the changes.
As shown in the screenshot below, when someone will delete the line, Word automatically strike-through the line and change the font color as specified, on inserting any line, color will change to red. On changing the font, a balloon will be appear at the right margin of the window as configured in Track Changes Options dialog.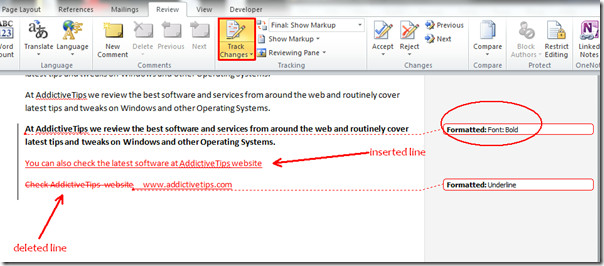 If you want to see the old version of the document, or revert to the original document, click Original.

Original document will appear (before any changes).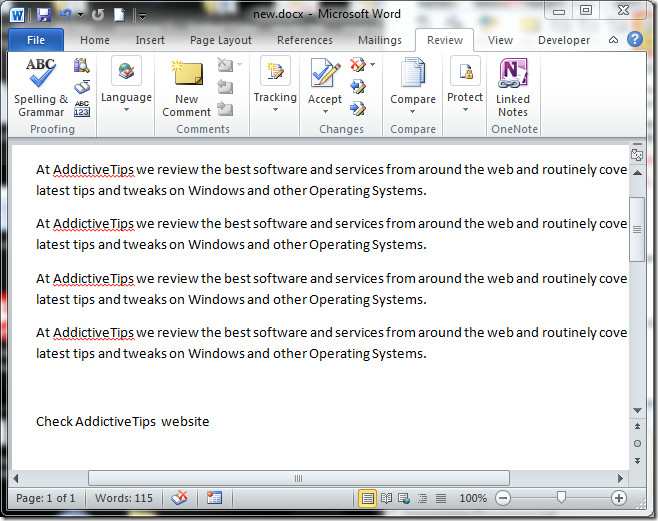 You will also be interested in our previously reviewed guides on How to use Mail Merge in Word 2010 & How to disable protected view in Office 2010.