Android App Player Beta For BlackBerry PlayBook Leaked! [Download]
Announced in March and demoed at BlackBerry World 2011, the alternate 'app player' for RIM's maiden tablet seems to be nearing its release. That's right. We're talking about the very app player that will allow you to run Android apps on your BlackBerry PlayBook. A few hours ago, a link to a beta version of the app appeared on the BlackBerry website, within the changelog of BlackBerry Desktop Manager. The linked page was taken down shortly after, but not before the app was spread across multiple file-hosting websites. The beta version of Android App Player, as it seems, comes packed with stock Android apps. Other apps will have to be downloaded from BlackBerry App World, that is, once they've been ported over to the platform by their developers. The app simulates Android home, menu and back buttons with bezel gestures. The on-screen back button that was part of the app during its first demo has been replaced by a bottom-left swipe gesture in the beta. Download links after the break.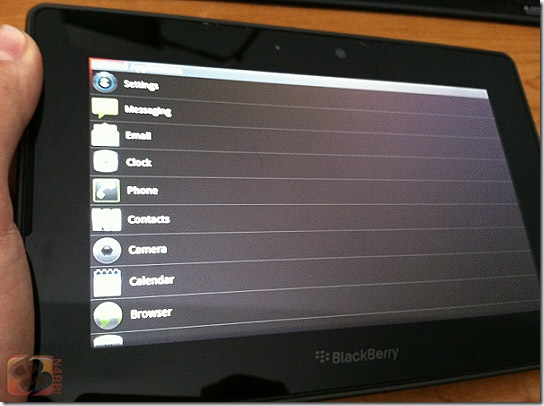 Once you have downloaded the app's .bar file to your computer (links given at the end), you'll have to sideload it to your PlayBook. If you're on Windows, an easier way to do that would be to use DDPB installer.
Disclaimer: You may download and install the app from any of the links provided below, but at your own risk. AddictiveTips will not be liable if your device gets damaged during the process.
Note: Check out our guide on how to install Android apps on BlackBerry PlayBook if you're looking to test Android App Player with your favorite Android apps before its official release.
Download PlayBook Android App Player from DepositFiles.
[via & image source: N4BB]