Automatically Activate Android Bluetooth For BT Headset During Calls
Bluetooth headsets, when paired with mobile phones, offer great convenience in making and receiving calls. However, to avail said feature, users have to sacrifice much of their device's battery life by keeping Bluetooth enabled on it for as long as they wish to receive their calls via the headset. Say hello to Bluetooth on Call – a free Android app that helps automate the process of enabling your device's Bluetooth, and pairing it with the headset each time a call is received. In this way, Bluetooth remains activated only during calls. As soon as you end the call, the Bluetooth is automatically turned off. In addition, the app can also be set to have your phone automatically enable Bluetooth while your phone is being charged.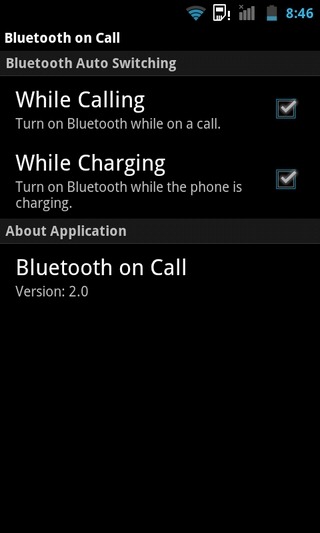 The app has two separate toggles for both aforementioned options. You can choose to auto-enable Bluetooth While Calling as well as While Charging. Ensure that the Bluetooth headset has been paired with your phone and is powered on so that your phone can detect and connect with it each time a call is received.
Provided all prerequisites are in place, the next time you're calling someone, the app will automatically trigger your device's Bluetooth on, and shift the call to the paired Bluetooth headset. In case the selected Bluetooth headset is not found (or is powered off), calls will automatically be sent to the earpiece.
All in all, a convenient way to receive calls via Bluetooth headset without keeping your device's Bluetooth switched on persistently. We tested the app successfully on a Google Nexus S paired to a Nokia BH-503 Bluetooth headset, both for calls and while charging.
Users who do not have a Bluetooth headset, yet are looking for a quicker, more convenient way of receiving their calls might be interested in taking a look at recently reviewed SpeakerProximity. The app uses your device's proximity sensor to automatically switch between earpiece and speakerphone during calls to provide you with a alternative to hands-free calling. That is, the app automatically puts calls on speakerphone when you move your phone away from your ear. However, receiving calls on a Bluetooth headset certainly accounts for better sound quality and, of course, greater convenience..
Download Bluetooth on Call for Android