Boost/Increase Android Headset Volume With AudioHack
Although Android is a wonderful mobile OS that gives you the liberty to use your phone as you want, but still ringtone and headset volume has always remained a problem. If you have a rooted HTC android based device (In this case we will be using HTC Dream G1), you can always modify the original sound settings to enhance your Android geared device's internal, ringtone and Headset volume.
Here is the step by step guide on how to increase volume of your Android mobile phone.
1. First of all you need to make sure that you have rooted Android device.
2. Now launch market and search for " apps installer".
3. Select the "appinstaller" app as shown in this screen-shot. In this case it is the first app result and the publisher is Gregory House.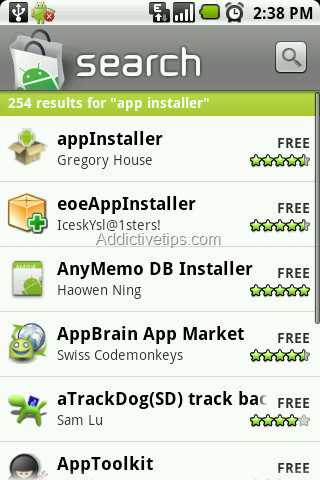 4. Once you have downloaded and installed appinstaller from the market, download AudioHack Ver 1.1 ( scroll down for download link) to your computer, unzip and copy the .apk file to your SD card.
5. Now launch "appinstaller" and tap on AudiohackV1.2_Lite as shown in the picture below.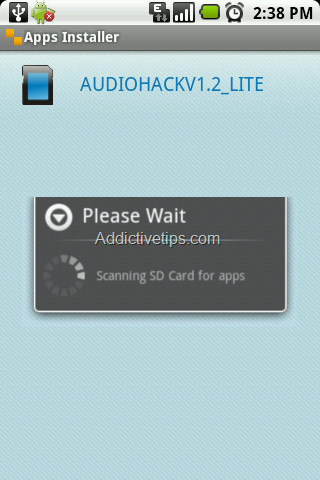 6. This will install the App on your phone. Once installed, play any audio file in the background from your music player.
7. Now launch AudioHack and press V2 Tab on the screen.
8. Once you have pressed V2 on the screen, you will get a message in red on bottom of the screen like this "Press Button Below To Push Files To Phone".
9. Now press the Push Button and there you go! if you followed every thing correctly, the background playing MP3 song will now have louder volume. And you will get "Pushing Complete! –Media Server Restarted" message.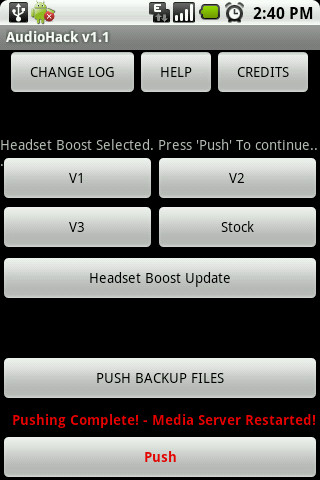 10. To increase your headset volume, follow the above procedure and then press Headset Boost Update followed by pressing the "push" button on the bottom.
UPDATE (Important) : We have just identified a potential bug in Headset Boost Update Option. Once you push this option, it diverts your call towards cell phone speaker and puts it on the loudspeaker mode automatically. It is recommended to only use V2 for the moment until we figure out some remedy for this.
Download AudioHack (hosted at AddictiveTips servers)
Disclaimer: Addictivetips won't be liable for any damages that may incur to your device during the process