Android 2.2 Froyo Update For Samsung Spica Coming Soon? [Update]
Although we know for a fact that Samsung is one company that doesn't believe much on customer support when it comes to updating it's cell phone firmware. The update issue of Samsung Behold is one very fine example of this. Keeping all this in view, there is a prevalent rumor that Samsung will be updating current Samsung i5700 Spica with Android 2.2 Froyo.
This was actually disclosed by a member at Samdroid forum, who claims that his source of information has been some friend's relative working for Samsung. It is also interesting that this guy has asked people to follow him on Twitter to get the latest updates and in one of his latest tweets he unveils the tip source.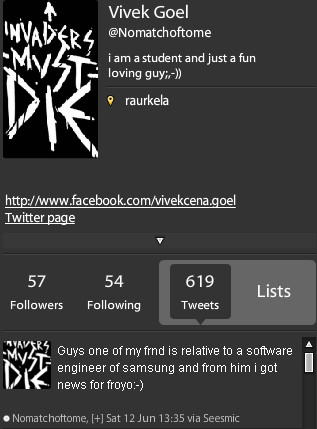 We are not sure whether to believe this hypothetical claim or not and leave it on your discretion. We can call this all a publicity stunt but just in case, if this rumor ever materializes , then all Samsung Spica users can rejoice for sure. It is still unknown whether this will be an OTA update for "all" Spica users or it will just be on the newly shipped ones.
Samsung i5700 Spica is a high-end android powered phone that has been out in the market for quite some time and you can find the root instructions here.
Update: As expected it was a spoof that was being threaded about at samdroid.net. We are sorry for any temporary rejoicing that this news might have caused but again,  we reported what we saw and observed. Thanks.