DeadBeeF Music Player – Multiple Audio Formats, 10-Band Equalizer [Android]
Hardcore music loving Android fans have plenty of quality music playing options to choose from the Android Market. Where most contemporary media players try to follow the latest Android GUI norms and patterns to stay at par with the rest of the competition, there are several candidates that prefer tradition over convention. One fine example of such app happens to be DeadBeeF Player for Android, which is a feature-rich, retro-style music player that supports over thirteen audio formats, allows online streaming, features a 10-band equalizer, supports per-track and per-album replay gain, last.fm scrobbling, a playlist manager and a 4×1 home screen widget. The player has both a free (ad supported) and a $1.92 pro (ad-free) version available in the Android Market.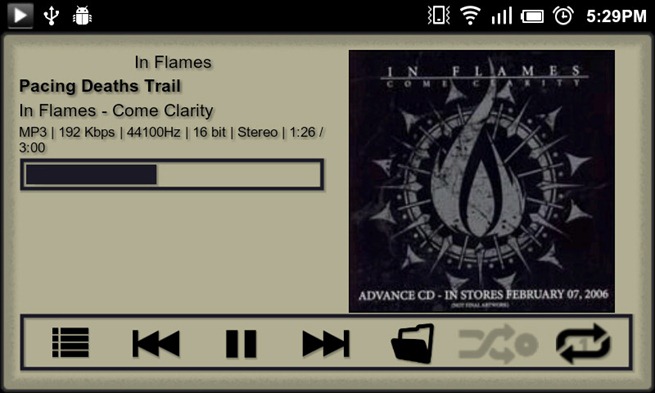 The old-school user interface that governs both the app and its widget is simple in usage yet respectably good-looking. It features an optimized landscape view and allows you to shift between player controls and the playlist manager with a quick swipe across the screen. The button at the extreme left of the music player controls replaces the tracks list with the album art associated with the currently playing song. Tapping on said album art displays detailed Track properties.
You can browse your SD card from within the app and add audio files from the entire card or from selective folders to a playlist of your choice. The player can be set to shuffle either tracks or albums, just once or endlessly.
The 10-band equalizer can be accessed from Menu > Equalizer. The player does not feature built-in equalizer presets but you can save your own. To enable per-track/per-album replay gain and last.fm scrobbling, hit Menu and tap Settings. The home screen widget provides player control and a shortcut to the app on your home screen.
Testing the app on an HTC Desire running MIUI 1.6.17, we found that the player is one of the few that is supported by the ROM's lock screen music widget.
Now for a bit of anti-climax; DeaDBeeF does not support MP3 and a few other commonly used audio file formats natively. To make the app capable of supporting file formats of your favorite tracks, you must first download its free plugins pack from the Market (link provided below) to be able to play said formats.
Links for both the free (ad-supported) and paid (ad-free) version are provided below.
Download DeadBeeF For Android (Free)
Download DeadBeeF Pro For Android (Paid)
Download DeadBeeF Free Plugins Pack
[via Android Police]