DeskSMS For Android – Send & Receive SMS To / From Gmail & Google Talk
Koush, best known for developing the famous Clockworkmod Recovery for Android, has decided to try his hand at the remote messaging app genre. The developer has conceived an app that pushes all your incoming SMS to your Google account (Gmail and/or Google Talk). DeskSMS is a handy little app that allows you to receive and reply to your text messages from your mail client. With DeskSMS, you can receive your text messages as an email or in the form of chat messages in Google Talk. The replies however are sent as text messages only and not as an email. The app comes with a home screen widget that can be used to toggle sending/receiving messages on Gmail, Google Talk or both. More after the break.
How would you reply to all your text messages while you are checking mails from your colleagues on your notebook and your phone is being charged in the other room? That is where DeskSMS comes in. Though not the only app of its kind in the market, DeskSMS is certainly among the most effective ones. The app is fairly simple to set up and use. Just feed in your mail account, select from Gmail and/or Google Talk services to receive all the messages and you're done! All the incoming text messages would now be pushed to the selected service(s). You can easily reply to your messages through email. Replied messages are sent back as text messages to the same phone number. Therefore, the recipient needn't be connected to the internet.
Usability of DeskSMS can be maximized through the app's widget that allows quick enabling/disabling of message reception on Gmail and Google Talk. To add DeskSMS widget, long press a vacant area anywhere on your home screen, select Widgets > DeskSMS Widget. This should install the app's widget on your homescreen, with the Gmail icon displayed in the left whereas the Gtalk icon displayed at the right side.
We tested the app on an HTC Desire (running MIUI) and Desire Z (running CyanogenMod 7) and found it to respond promptly, without any unwanted skips or long delays. However, the Send Test Message button in the app failed to operate on both devices.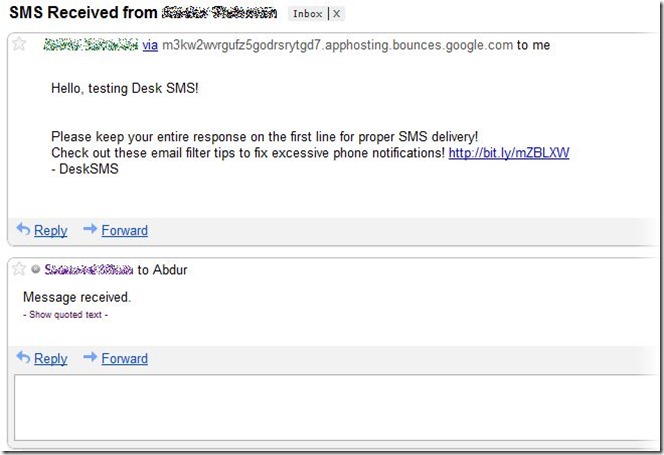 Given it's just a beta and among first-of-its-kind in the Android arena, DeskSMS justifies its worth quite commendably. DeskSMS is available for free in the Android Market and requires Android 2.2 or higher to run.