Enable Ad hoc Network Support On Motorola Xoom Honeycomb Tablet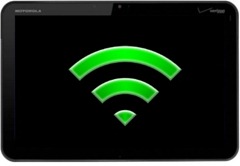 Not using a Wi-Fi modem at home? Have an Ad hoc network setup and can't manage to connect your Motorola Xoom tablet to it? To be honest, Xoom isn't the first and only device harboring this limitation, so if you were frustrated about it till now, maybe that would help make you feel a tad bit better. You'd feel even better knowing that XDA-Developers forum member mr_wrong_0 has released a mod allowing your Xoom to support Ad-Hoc networks.
Credits also go to Kelvie, for the actual wpa_supplicant file. BRD and BWCorvus, for the flashable template kev0153, for a point in the right direction and Amruthwo, for always helping push my limits and learn along the way.
According to the developer, this mod is, "For anyone who wants to connect their Xoom to an Ad-hoc network (such as many phones using wifi-tether) This will replace the wpa_supplicant file and fix permissions in one easy step."
The feedback from users who tried it out, has been quite positive so far and is reportedly working like a charm on the Xoom. To install this mod on your Xoom, continue reading the requirements and instructions.
Disclaimer: Please follow this guide at your own risk. AddictiveTips will not be liable if your device gets damaged or bricked during the process.
Requirements:
Instructions:
To begin, download the mod from the link above and boot into recovery mode. (When you see the Motorola logo splash screen as the device boots up, press the Volume down button to scroll through the boot options, and select Android recovery.)
In the recovery, select mounts and storage and then mount USB storage. (Your device should be connected to the PC via USB at this point.)
Now copy the mod you downloaded to the root of the SD card.
Once copied, select Unmount.
In the Mounts and Storage Menu screen, if the option unmount /sdcard is present, continue to the next step; if mount /sdcard is present, select it and continue.
Once the installation is complete, simply reboot your device.
That's it, your Xoom should now allow itself to be connected to Ad-Hoc networks and finally giving you the peace of mind you deserve. For updates and queries, visit the forum thread at XDA-Developers.