Everything You Need To Know About iCloud For iOS 5 [Review]
With the release of iOS 5 comes iCloud, which is Apple's answer to Google's cloud-based backup service for their Android devices. Apple's older web based services have been sketchy so far and while general notion may be the same for iCloud as well, the features and service being offered is actually very impressive. How it fares with the consumers is something only time can tell. For now, iCloud is up and running and we'll show you exactly what it has to offer and how you can use it.
Before we start of with the instructions on how to set it up and consequently move on to the features at hand, we'll just quickly tell you what the service has installed for you. iCloud will back up your entire device, much like an Android device where your messages, call logs, contacts, photos, calendars, notes all will be backed up. Furthermore, if you use apps such as Pages, Keynote and Numbers, iCloud can also make a backup of those documents. As for the apps, iCloud will not backup the app but its data, and when you restore from your backup, the apps will be downloaded from the App Store.
To set up the iCloud service, open the Settings app and get busy. iCloud will use your Apple ID as your account credentials and by default give your 5GB of storage. You can choose what you want to back up on iCloud and as you can see, it covers pretty much everything.
In case you're wondering what Photo Stream is, enabling this will backup your pictures in the camera roll and all other albums, which are then automatically restored when you restore from iCloud, or you can see them in the album titled "Photo Stream." Enabling Mail will prompt that you need to have a @me.com email address, which is the only service that can be synced with iCloud (you may sign up if you do not already have one). Documents & Data is the option to back up documents made on Pages, Keynote, and Numbers. Find My iPhone is a very convenient way of locating your iPhone, which we will probe deeper in a bit.
Tap Storage & Backup and you will be taken to a page showing you the total storage space you have access to and what is left of it. Additionally, you may also buy more storage if you wish. You see that iCloud Backup button? That's the key to making iCloud automatic backup functional, so if you do not enable that, you may toggle as many switches as you want in iCloud, but your pictures, accounts, documents and settings will not be automatically backed up. So if you want automatic backup of your data, make sure iCloud Backup is enabled. That said, before a factory reset, you may still want to hit the Back Up Now button to backup everything for sure before erasing all data and settings. Manage Storage lets you see in detail exactly what is occupying space on your iCloud account.
Once you have iCloud setup on your phone and have made your first iCloud backup, you'll see how Apple's iCloud is a step ahead of Google's cloud backup for their Android devices.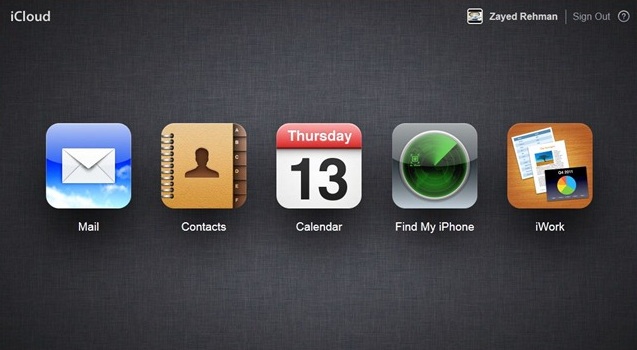 One of the major appeals of iCloud, especially when compared to Google's cloud backup, is the availability of your cloud storage as a web portal via a computer. Not only can you access the above laid out apps and the content backed up in them, you also have the ability to edit the data or content from within this portal. Any changes made are synced  to your iOS 5 devices as well. Namely, from this portal, you can access your Mail (@me.com address required), your Contacts, Calendar events, and iWork which houses your Pages, Keynotes and Numbers. So that leaves us with the mysterious Find My iPhone, right? If you have the Find My iPhone option enabled in iCloud, you can simply access the location of your device from the portal and alongside a few more options to go with it as well. We'll go through all these one by one in detail.
To set up preferences for your account on the iCloud portal, simply click on the username on the top right corner of the browser and a window similar to the above screenshot will appear. You may change the display picture associated with your account, along with the choice of selecting a different Language and Time Zone.
If you want a clean start and a fresh new backup of your pictures, you can click Advanced and select Reset Photo Stream that will remove all pictures previously backed up on iCloud.
Find My iPhone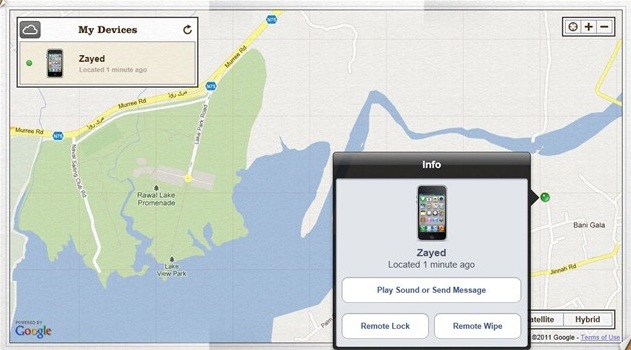 Moving on, we take a look at how Find My iPhone exactly works and what else it can do. This service not only locates your device for you, but also enables you to send a message to your phone that displays as an unavoidable popup with an alarming tone – highly useful for times when you cannot find your phone, especially if it was set to silent mode. Once the message is delivered, an email is also sent to your Apple ID (email address), confirming that the message was delivered.
Other options include a remote lock that sets a password lock on the phone that you specify from the portal. Remote Wipe is a drastic measure to resort to for saving your data from getting into the wrong hands, as it will wipe the entire contents of your iPhone.
Calendar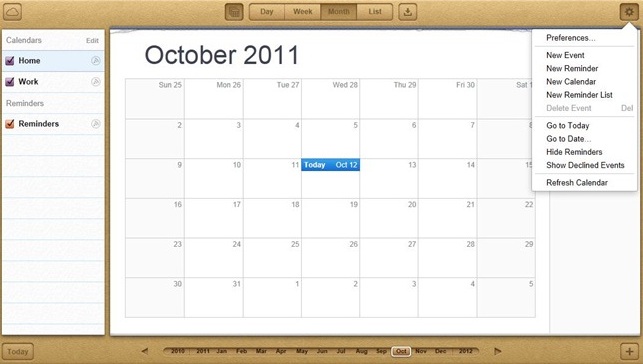 Your Calendar app just got a big screen debut. This web-based app looks like it takes its cue from the new Reminders app mixing with the old Calendar app. Hit the cog wheel to bring up settings and quick access to whatever you want to add in the calendar. There's a comprehensive reminder system integrated in it, as well.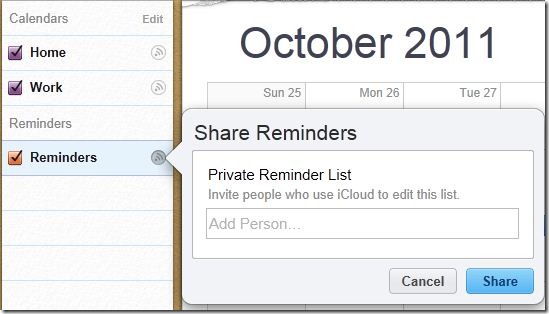 You can also share your reminders or calendar events with other iOS 5 users as well and they can edit the lists. Additionally, you have the option to let anyone see your lists, if you choose to do so.
Contacts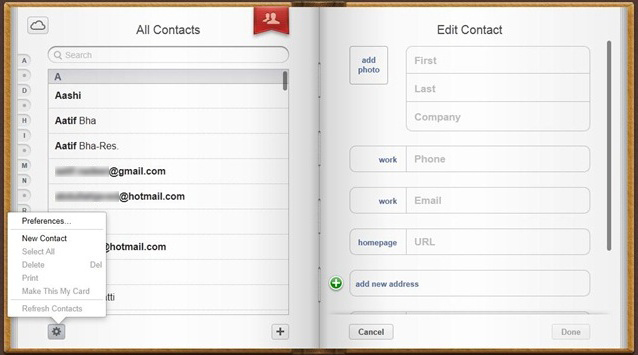 Your on-the-go Contacts list can now stay synced with your iDevice and you can easily edit or add contacts without having to plug your phone into the computer. This would be particularly useful for frequent travelers, users who work with random, public computers, and those who are mostly on the go. With Contacts on iCloud, these issues become a thing of past.
Hitting the cog wheel here will bring up a list of options that you can play around with, such as, how to sort contacts, print their details, refresh (in case changes were made on your phone) etc.
Mail
As we've said before, iCloud will only backup your @me.com email accounts, so if you want your emails backed up on iCLoud, you will need to sign up for an email address (if you do not already have one). The interface is actually very simple and well laid out. Other then that, it's pretty much your regular email client.
iWork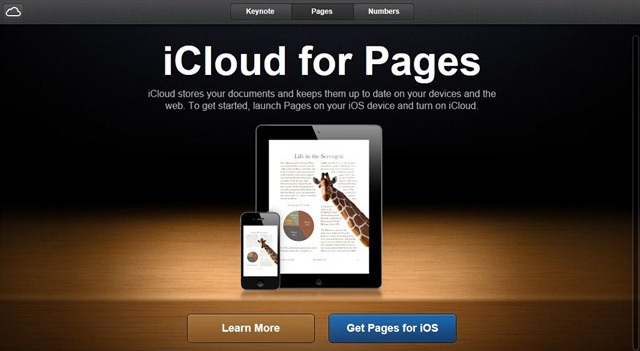 iWork is your all-in-one portal for accessing all the content created using Keynote, Pages and Numbers. You can not only view the documents that you have backed up, but it also offers the ability to edit existing ones or create new documents from scratch, which can then be synced across your iDevices.
iCloud definitely boasts a lot of potential, especially with the iCloud web portal at hand. For now, the service seems well thought out and stable, based on our test run in Addictive Labs. For now, Apple's initiation of iCloud is commendable, but it remains to be seen how the service will pan out as the user base grows. Only time will tell.