Extended Power Menu On Asus Eee Pad Transformer Running Android 3.0 [Recovery, Restart, Shut Down]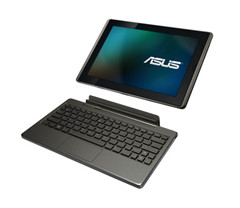 The Transformer has proven to be one of the most potent Android Honeycomb tablets out there, with massive support from the developer community. The device has received custom ROMs and an update to Android 3.1 as well, but in all those ROMs and updates, an extended power menu was lacking. XDA forum member Roach2010 has just released a mod that gives you that much needed option. Read on for more!
What this mod does, is that it will allow you to reboot into recovery, restart, or just shutdown as usual. The mod was tested on the Prime v1.3r2 and MoDaCo's Hr5 custom ROMs by the developer and was reported to be working fine. That said, the mod remains a Beta for now and is only intended for devices running Android 3.0, NOT 3.1. See below for how the menu looks, courtesy of the developer.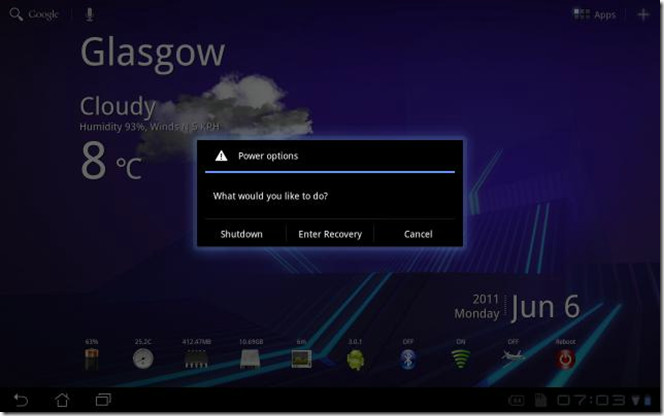 So let's get your Transformer modded! Please note that before you move on, make sure to have a ROM copied to the root of your SD card ready to be flashed incase something goes wrong considering it's a beta.
Requirements:
A rooted Asus Eee Pad Transformer. See our guide on rooting the Transformer.
Running a Deodexed ROM. (See here for a list of ROMs you can install on the Transformer once rooted.)
Instructions:
To begin, download the mod from the link above and copy it to the root of your SD card.
Once done, reboot into recovery by pressing the Volume down and Power buttons together.
Make a nandroid backup by navigating to backup/restore > backup.
Navigate to wipe factory/data reset and select it.
Do the same for wipe cache and wipe dalvick cache.
Select install zip from sdcard > choose zip from sdcard > beta_menu.zip.
Once the file is flashed, simply reboot the deivce.
For updates and queries, visit the forum thread at XDA-Developers.