Gain S-Off On HTC Desire, Aria and Wildfire
Finally, the days of achieving S-Off on HTC Android based devices through those cumbersome ADB and terminal commands are seemingly nearing their end. One click S-Off on HTC devices is actually becoming a reality thanks to an application called AlphaRevX. The list of devices this tool supports is growing everyday and this time we'll show you show you how to gain S-Off with AlphaRevX on an HTC Desire [GSM], HTC Wildfire and HTC Aria, so read on!
Earlier we covered a guide on gaining S-Off via AlphaRevX on the HTC Incredible S, and that was a huge relief for all those Incredible S owners who's phones were locked down. We have also covered S-Off for the HTC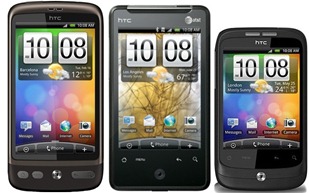 Desire, Aria and Wildfire in the past, but the method involved was enough to make you want to stick to a stock device. Not anymore! Please do note that that messing with the S-On and S-Off is not for the faint hearted, and unless you are well versed with Android hacking and stuff, we advise you to be sure that you want to attempt this, as easy it may sound.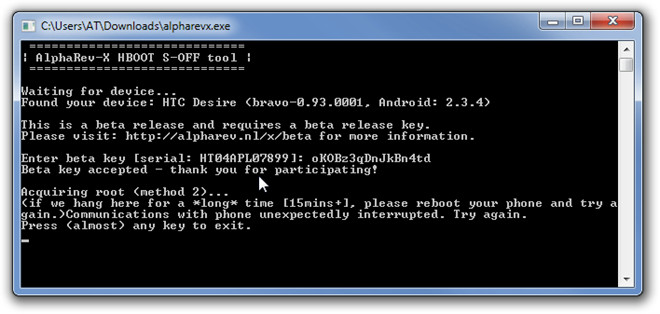 Disclaimer: Please follow this guide at your own risk. AddictiveTips will not be liable if your device gets damaged or bricked during the process.
Requirements:
ADB Installed on your system. See our guide on what is ADB and how to install it.
HTC Sync software installed in order to download necessary drivers. (Once the drivers are installed, remove HTC Sync from your system.)
Instructions:
To begin, make sure USB debugging is enabled in you device under Settings > Applications > Development.
Download AlphaRevX and extract the files to a folder. (A form will show up on the download page, keep it opened.)
Connect your device to the system and run Aplharev.exe.
You will be asked to enter a Beta key at this stage. Simple copy the serial number that shows up in the brackets in the prompt as shown in the screenshot above, and paste it into the form on the download page.
Hit the Generate Key on that form and once you have the key, enter it into the prompt to see a Beta key accepted message.
The application will start the S-Off procedure and should complete in around 90 seconds. Incase it does not start, wait fro around 15 minutes and re-do the whole process.
Voila! A 90 seconds S-Off! Who would have thought. The application is Beta for now, so be very sure about what you want to do before proceeding with this.