Gingerbread For Motorola Droid 2 Global Leaks [Download & Install]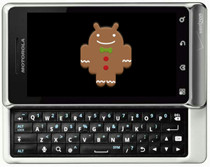 We have confirmation that a full Gingerbread firmware for the Droid 2 Global has been leaked on the internet. The firmware here is 4.5.606 and is not rooted, with everything else stock and functional. Credit for this release goes to RootzWiki forum member aceoyame. If you're familiar with SBF packages, you would know, it's not the easiest of files to install, but not the hardest either. In this case the ROM we're installing will not be using SBF but you will need SBF, we'll show you why. So if the terms, SBF and RSDLite make sense to you, you would have no issues installing this ROM on your phone. If not, we'll show you just how you can do that.
Further credit goes to Project Cheesecake and Framework43.
Now for this ROM to work, you need to be coming from a .330 firmware and not have any custom recovery installed on it. If you have any recovery installed on it, the installation will fail. So what now?
Disclaimer: Please follow this guide at your own risk. AddictiveTips will not be liable if your device gets damaged or bricked during the process.
Requirements:
Instructions:
The instructions will be split into 2 parts, using RSDLite to flash back to 2.4.330 and then installing the ROM.
Flashing back to 2.4.330
To begin, download RSD Lite and the drivers from the link above and consequently install the drivers.
Download the SBF package and extract it.
Power off the phone and then hold the Volume Up key and Power button together till you enter bootloader mode.
Now launch RSD Lite on your PC and click the "…" button next to the box labeled Filename.
Choose the SBF file you extracted from the SBF download.
Plug the device to the PC via USB and RSD Lite should recognize the device.
Hit the Start button and sit back and relax as the files are flashed to your phone.
Once the files are flashed the phone will reboot.
Installing the Gingerbread firmware
Download the firmware from the link above, extract the ROM and rename it to update.zip.
Once done, copy it to the root of your SD card.
Turn the phone off, and turn it back on by pressing the holding the X key as you press the power button to turn it on and then hitting the magnifying glass and choosing to install the ROM.
Once the ROM is flashed, simply reboot the device.
Voila! You should now boot into the new Gingerbread firmware on your Droid 2 Global. For further updates and any queries head over to the forum thread at RootzWiki.