Unpack Monitor – Schedule Unpacking / Extracting Of RAR Archive Files
Unpacking RAR  archives can take an awful amount of time and it can be quite laborious to manually monitor RAR files as they get unpacked. Unpack Monitor is a portable application which automatically extracts RAR files from specified directories at user defined-time interval. The added directories are continually monitored by Unpack Monitor to scan and unpack RAR periodically. So far, no other archive format is supported so it limits the use of this application.
To begin, add directories containing RAR files from Add Directory option. In case you add a wrong directory accidentally, you can select and remove it from Delete Directory option present underneath the menu bar.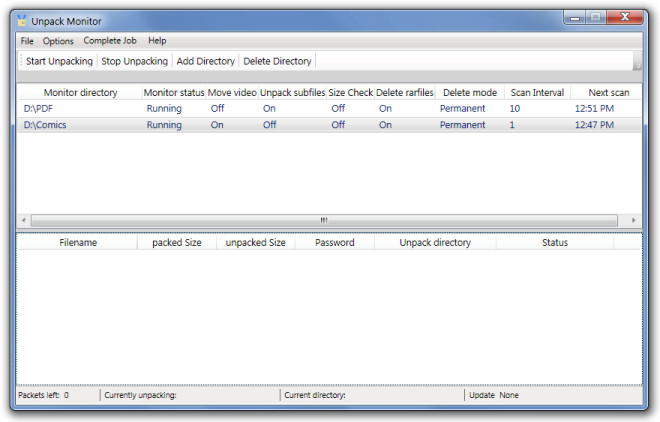 When a new directory is added, a new window will pop up where you are required to configure additional options. You can select the destination folder to save the unpacked files, enable removal of RAR files after extraction, set video files to be moved (to the unpacked files folder), add a hard disk limit for unpacking files (up to 1GB), enable scanning for sub-folders and set a time frame for periodically scanning the added directory for unpacking files. Once settings are configured, close the window.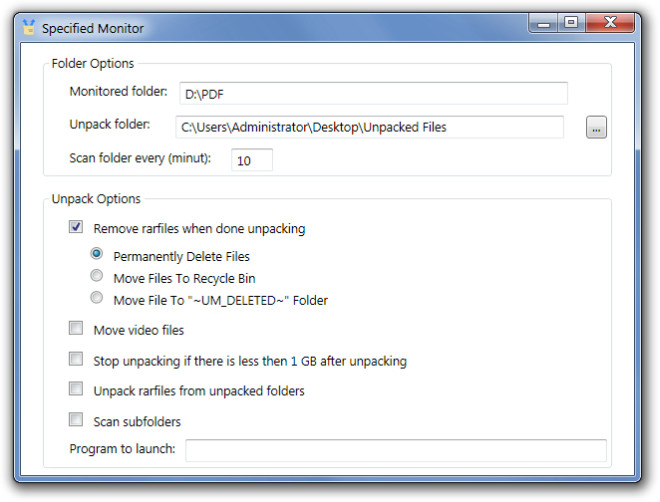 This will start the unpacking process at scheduled intervals. The labeled columns next to each directory displays the options which have been enabled for each folder in the queue (e.g. the scheduled time, deletion mode, size limitations, next scan schedule time, etc).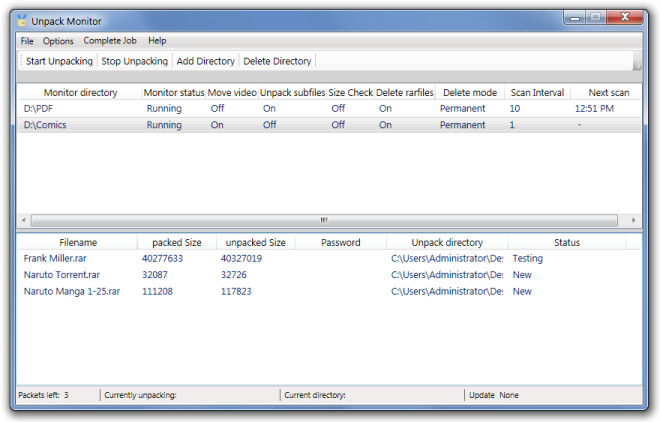 It also includes option to schedule system shutdown or restart as soon as unpacking process gets finished.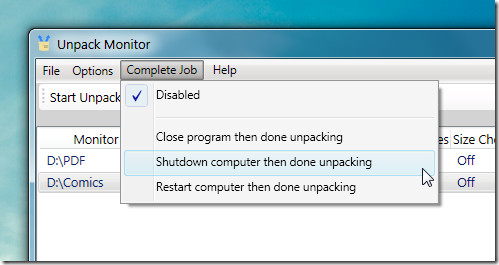 The advanced options can be configured from Options –> Settings. The General tab allows you to start Unpack Monitor with system startup and enable/disable logging. Whereas, from Unpacking tab you can select a text file containing passwords to automatically crack RAR passwords, enable unpacking of RAR files from unpacked folders, toggle scanning for sub-folders on/off,  remove finished jobs instead of scanning the directories periodically, and delete RAR files when unpacking is completed.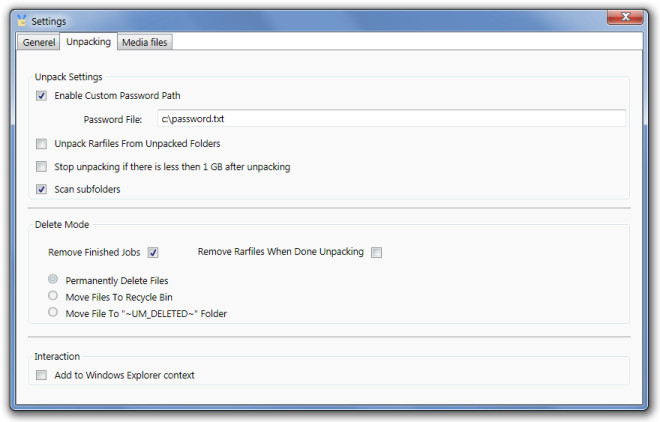 The Media Files tab provides a list of media file extensions to enable moving the media files within the selected directories to the pre-defined destination folder.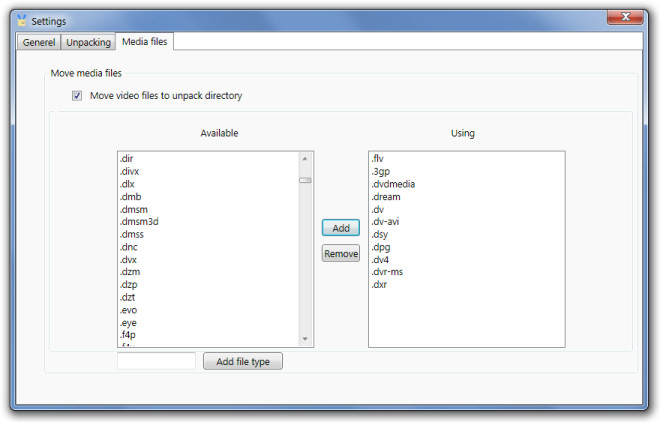 Like we mentioned before, Unpack Monitor limits the use because it supports only one archive format, which is, RAR. We expect the developer to add support for more popular formats, such as, Zip and 7-Zip. Unpack Monitor works on Windows XP, Windows Vista and Windows 7.