How To Dual Boot Windows Phone 7 And Android On HTC HD2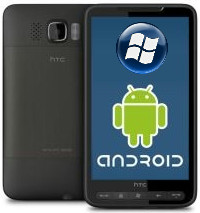 A few days back when we featured a guide on how to install Windows Phone 7 on the HTC HD2, the first thing that came to our mind was dual booting it with Android on our favorite device and fortunately, we recently came across just what we were looking for –  a way to run both Windows Phone 7 and Android on the HTC HD2 using MAGLDR. More details are after the break.
Android has been ported to HTC HD2 back from the days of Android 1.5 Cupcake while it has been just a few days since a Windows Phone 7 port surfaced for this device which is truly the darling of developers porting different operating systems to it including MeeGo, Ubuntu and even Windows 95! However, Windows Phone 7 and Android are the most practical operating systems to be used on the HTC HD2 considering the level of development going on for these two platforms and their global scope.
In our feature on the Windows Phone 7 port for the HD2, a commenter asked if there was a way to have all three operating systems i.e. Windows Mobile 6.5, Windows Phone 7 and Android on the device. While triple-booting the phone with all these operating systems is still not a possibility as no two of these can run simultaneously from either of the internal or the external memory, it is now possible to run both Windows Phone 7 and Android on it, with Windows Phone 7 being installed on the internal NAND memory and Android on the external SD card memory.
If you have had enough of the details and want to get on with it, just head over to the guide at the XDA-Developers forum thread from the link given below and follow the instructions there. We would have traditionally written a very detailed guide based on the relatively complicated instructions at XDA-Developers forums but despite being lengthy, this guide has been written with enough details over there already that should make it easy to follow for any user who has installed WP7 and Android on their HD2. There are multiple methods featured there and each one has been tested to work by several users – choose the one that you find the most convenient to follow.
While being straight-forward, the above guide does need users to make choices between the available methods and that doesn't work well for those doing it for the first time. That's why after trying the various available methods on our HD2, we have decided to feature here the method we've found to work the best.
Disclaimer: Please follow this guide at your own risk. AddictiveTips will not be liable if your device gets damaged or bricked during the process.
Requirements:
HTC HD2. (Both LEO512 (standard) and LEO1024 TMOUS (T-Mobile USA) versions supported)
A microSD card that supports Windows Phone 7. Most 8 GB+ SanDisk and Kingston Class 2 or higher cards seem to work well. Most Samsung cards give problems and may even become utterly unusable if used with Windows Phone 7. Try it at your own risk.
A computer with a built-in or USB microSD card reader.
Procedure:
Make sure the desired microSD card is inserted into your HTC HD2.
Now visit our guide on how to install Windows Phone 7 on HTC HD2 with MAGLDR and follow all the steps there. Proceed to the next step here when done with that.
When your HD2 boots into Windows Phone 7 for the first time, go through its setup wizard and then go to Settings > about and tap 'reset your phone'.
Confirm the prompts that you get and wait till the phone reboots after the reset process. While rebooting, it will be setting up the necessary partitions on the SD card.
Once it has rebooted into Windows Phone 7, reset it once more after finishing with the setup wizard but this time, don't let it boot back into Windows Phone 7 during the reset. Instead, when it powers off to restart, keep the Power button pressed until you see the MAGLDR menu.
Now while the phone is in MAGLDR, remove its SD card and insert it into your PC using the SD card reader.
Important: Make sure the phone does not boot into Windows Phone 7 till we have completely setup the SD card and inserted it back into the phone.
Launch EASEUS Partition Master on your computer. You will see two partitions on the SD card: a 200MB FAT partition and an unformatted partition taking up the remaining space.
Right-click on the unformatted partition and select 'Delete'.
Click 'Apply'. EASEUS Partition Master will refresh after applying the change and you will now see unallocated space instead of that unformatted partition.
Right-click on the unallocated space and click 'Create'.
Set this new partition as Unformatted and Logical, and choose a suitable size. This will be your Windows Phone 7 partition and it MUST be larger than the other Android partition we're going to make. In other words, its size MUST be more than half of the total space on the SD card.
Move this partition to the end of the SD card and click 'Apply'. EASEUS Partition Master will refresh again after applying the change and you will see the new partition created.
Exit EASEUS Partition Master, safely remove the SD card from the computer and insert it back into the HD2.
Now boot your HD2 into Windows Phone 7 and again (for the last time) go through the setup wizard.
Now would be a good time to go to the 'About' screen and verify the amount of internal storage you have available. It should be close to the partition size you selected. A difference of upto 1 GB is normal though.
Fully power your device off, take the SD card out and insert it into your computer via the SD card reader.
Launch EASEUS Partition Master again and this time, right-click on the 200MB FAT partition and click 'Resize/Move'.
Make this partition fill up all the unallocated empty space and click 'Apply'. Let EASEUS refresh after applying the changes. You should now have the two partitions taking up the entire SD card space, with the FAT partition being the first and smaller, and the Unformatted partition being the second and larger.
Format the FAT partition to FAT32 with 32KB or 64KB cluster/allocation unit size, click 'Apply' and wait till it refreshes.
Exit EASEUS and launch MiniTool Partition Wizard.
Right-click the FAT32 partition, go to 'Modify' and select 'Set Partition as Primary'.
Click 'Apply' and wait for the changes to take effect. Exit MiniTool once done.
Now your SD card and HD2 has been configured correctly to run Windows Phone 7 and Android both. The last thing to do is to install an Android SD card build. For help with that, see how to boot Android from SD card of HTC HD2 with MAGLDR.
Congratulations! Your HTC HD2 has now both Windows Phone 7 and Android installed on it and configured for dual-booting using MAGLDR.