How To Install Windows Phone 7 On HTC HD2 With MAGLDR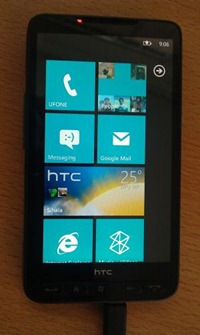 While we have previously covered installing Windows Phone 7 on HTC HD2, we didn't have a chance to try it out ourselves then but over the past few weeks, we have been playing around with our HD2 quite extensively including Windows Phone 7 installation. That's why we are bringing you a whole series of guides in a much more organized way to help you make the best out of your HTC HD2. Read on for more details and the complete installation instructions.
The previous guide still contains valuable information as we were amongst the first to cover it when Windows Phone 7 for the HTC HD2 was news. For this reason, we will not be replicating the information about the ROM itself from that guide into this one and you can see it as well as the videos demonstrating it there directly by checking out our previous post on installing Windows Phone 7 on HTC HD2.
However, that post should now just serve as information on the ROM and not as the installation guide, as we are attempting to significantly organize all information on the HTC HD2 and its hacks and that involves splitting guides into multiple ones because a part of them is relevant in other hacks as well, and also because the primary tool used in our old guide i.e. MAGLDR has been updated and the newer version have more to offer that needs to be highlighted.
Once you have checked out that post for the information on Windows Phone 7 for the HTC HD2, you may continue reading here for getting it up and running on your device.
Disclaimer: Please follow this guide at your own risk. AddictiveTips will not be liable if your device gets damaged or bricked during the process.
Requirements:
Procedure:
Download the ROM and extract its contents to your computer.
Power your HTC HD2 off and boot it into MAGLDR menu by long-pressing the Power button.
Select USB Flasher mode.
Connect your phone to the PC via USB.
Launch DWI.exe from the files extracted in step 1.
Follow any on-screen instructions carefully to flash the ROM to the HD2.
Once the installation is complete, the phone will automatically reboot into Windows Phone 7.
Congratulations! You should now be running Windows Phone 7 on your HTC HD2.
Note: If you want to dual-boot your HD2 with both Windows Phone 7 and Android, you need to configure your SD card first. See how to dual-boot Windows Phone 7 and Android on HTC HD2.
Later on, we will be featuring a complete guide on how unlock and enable app sideloading as well as Marketplace access on your HD2 running Windows Phone 7 and will be updating the links here so stay tuned!