How To Fix GPS On Samsung Galaxy S [Eclair And Froyo]
There are many Samsung Galaxy S users with a GPS so horrible, that some of them might chuck their handsets out of the window for their Google Maps giving up on them altogether. Well, in case you are getting any such ideas, then think again, because our friend Saad at Wccftech is out with a fix for Galaxy S's GPS issue.
In order to fix the GPS issue on this handset, you don't need to have root. Here are the step by step instruction of solving GPS no-fix problem on Samsung Galaxy S.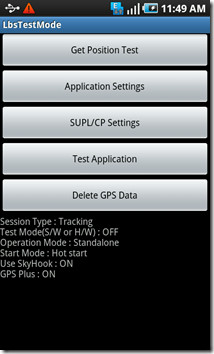 Before embarking on these instructions, please make sure to note down the stock settings, so that you can restore them if this doesn't work for you.
The firsts step is to dial the following codes on your Samsung Galaxy S:

*#*#1472365#*#* If you are running Android 2.1 Eclair.
*#*#3214789650#*#* If you have updated to Android 2.2 Froyo.

once you finish dialing the codes mentioned above, you will have a LbsTestMode screen on your phone with several option.
Now tap on Application Setting.
In Application Settings, click on Operations Mode followed by selecting Standalone.
Once you are back on Application Settings, tap on Start Mode and click Hot Start on the pop-up.
Now select GPS Plus and put it on by clicking the ON radio button.
Once done, click on SkyHook and also change it's value to ON.
Now go back to the first screen and tap on SUPL / CP Settings.
Once you have done this, tap on Server FQDN Type followed by clicking on AUTO Config.
Once you are through all this hardwork, it's time to reboot your handset. Once your Galaxy S boots, launch Google Maps and you will get the fix within 5 to 10 seconds. Enjoy GPSing!
Update: If you have GPS issue on Samsung Captivate, you can fix it by following the guide here.
Disclaimer: Please follow the guide at your own risk. AddictiveTips won't be responsible in case you incur any damage to your handset following the instructions above.