How To Install HardSPL 2.08 On HTC HD2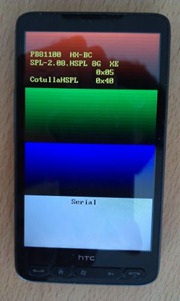 HardSPL 2.08 – also known as 2.08.HSPL – is an SPL bootloader for the HTC HD2 that allows you to install custom Windows Mobile 6.5 ROMs and MAGLDR – which in turn lets you install Windows Phone 7 as well as Android ROMs – to your HD2. Whether you want to switch to a custom Windows Mobile 6.5 ROM or intend on turning your HD2 into a Windows Phone 7 or Android device, installing HardSPL 2.08 is the first step in the process and we are going to show you how to do it.
The tool that we will be using to install HardSPL 2.08 on the HD2 is called HSPL4 and it has been developed by Bepe and Cotulla of DFT (Dark Forces Team). These are the guys who have also brought us MAGLDR, Windows Phone 7 and ClockworkMod recovery for the HD2 and just like their other work, this tool works great while being amazingly easy to use.
Disclaimer: Please follow this guide at your own risk. AddictiveTips will not be liable if your device gets damaged or bricked during the process.
Requirements:
HTC HD2 (All versions including T-Mobile USA are supported)
Phone's battery charged to 25% or more. (50% or more is recommended to be on the safe side.)
PC running Windows XP, Vista or 7.
Microsoft ActiveSync (Windows XP) or Windows Mobile Device Center (Windows Vista / 7) installed.
microUSB cable for connecting the HD2 to the PC.
HSPL4 (Download the zip file and extract the contained HSPL4.exe file to your computer.)
Procedure:
Turn your phone off.
Press the volume-down button and while keeping it pressed, press and hold the power button.
Release the buttons when you see a four-color (red/green/blue/white) screen on your phone.
From the display on the phone, check the current SPL number. If it is one of the following, you are ready to proceed.

SPL 1.42.0000
SPL 1.62.0000
SPL 1.66.0000
SPL 2.07.0000
SPL 2.08.0000
SPL 2.10.0000
SPL 3.03.0000

In case it is not one of the above, you will need to install any official ROM having one of these SPL versions before you can install HardSPL 2.08, though most users will have one of these SPL.

Connect your HD2 to the computer via USB. The text saying 'Serial' in the white area should turn to 'USB' in a little while and your phone will be recognized by the tool.
You will now be presented with a list of SPLs that you can choose from. Make sure you select 2.08.HSPL from the dropdown list and click 'Next'.

The tool will now install HardSPL 2.08 to your HD2.

Do NOT disconnect your phone from the computer during this process. It should take just a few seconds.
To confirm that the installation has been successful, reboot the HD2 into its bootloader again using the above-mentioned steps 2, 3 and 4. It should say 'SPL-2.08.HSPL' and 'CotullaHSPL' on the screen, along with some other text.
HardSPL 2.08 should now be installed on your HTC HD2. With HardSPL 2.08 installed, the potential of your HD2 has been unleashed. There is one step remaining however, before you can fully utilize your device to install any custom Windows Mobile 6.5 ROM or install MAGLDR and use it for installing Android and Windows Phone 7 ROMs or ClockworkMod recovery to your phone, and that step is installing a radio that supports 576 RAM. The latest available radio supporting 576 RAM is 2.15.50.14 and you can install it by following our guide on how to install 2.15.50.14 radio on HTC HD2.