How To Install New Android Market 2.2.6 On Your Device
If you've been awed by the complete revamp that the Android Market went through last week, and frustrated that it is not available on your device, you're in luck. The marketplace may not yet be available on all firmwares, but if you have a rooted device and running Froyo or later, we'll show you how you can boast a much beautiful and functional Android Market on your phone, right after the jump.
Before we begin, please remember that any modification at root level can only be done at one's own choosing, and neither I nor AddictiveTips can be held liable for any damage. The process is fairly harmless and we will show you how to backup your earlier market app, but proceed at your own decision anyway.
Requirements:
Rooted device running Android 2.2 FroYo or later
The latest Android Market 2.2.6 – download it here
Root access to file system – this can be a tricky part, because the application I will use for this guide is Root Explorer, a paid app for $2.50. Alternatively, you can use a free PC-based Android manager that gives root access, such as Droid Explorer.
Step 1
Place the downloaded com.android.vending_2.2.6.apk to the root of your SD card.
Step 2
Navigate to the location /system/app on your Android device (use either Root Explorer or another program of your choice), and locate the file named "Vending.apk". This is your old Market application.
Step 3
Now we're going to create a backup of this old apk, just in case something goes wrong. Rename this file to Vending.apkOLD (or modify the extension in any way you like). The new market APK will replace this.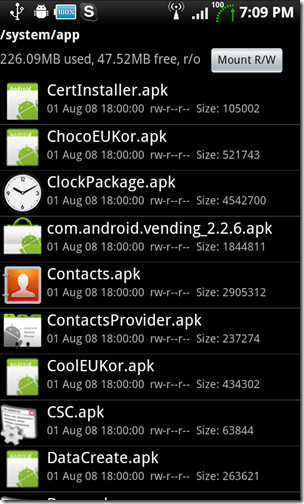 Step 4
Reboot your device. Now either navigate to your SD card and install the new APK, or manually copy and paste it to /system/app. You may reboot once more to be sure, but the next time you fire market up, you'll see the new interface gleaming at you! Enjoy!
Restoring Old Android Market
In case something goes wrong or the new market 2.2.6 does not work for you, you can restore using the backup we created. First, uninstall the new Market app (you can do so by navigating to Settings > Applications > Manage Applications). Once that is removed, navigate to /system/app again and rename the Vending.apkOLD file back to Vending.apk. Reboot device for changes to take effect.
Android Market 2.2.6 is known to work with Android 2.2, 2.2.1 and 2.3, but if you want to give it a shot on 2.1 or 1.6, do let us know as well if that worked for you.