Control iTunes Media Playback From Desktop [Windows Gadget]
iTunes Accessory is an elegant desktop gadget which allows you to control iTunes media playback without having to open iTunes window to change currently playing track and offers seamless synchronization with iTunes media library. You won't need to update the playlist separately in its manager, since it can keep itself updated with yours playlist. Additionally, it can automatically search and download missing album arts. An equalizer is also accompanied to let user choose pre-defined presets.
It comes with two customizable interface layouts, docked and wide, both type of interfaces offer a list of layouts and sizes which you can change anytime. Furthermore, it comes with two themes which you can try out alternatively.
Docked layout
By clicking the small button present in bottom-left corner, you can select the playlist which is to be queued up, set equalizer, and bring up iTunes.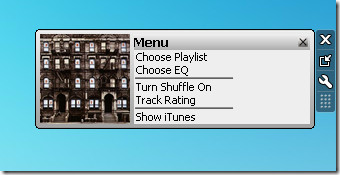 You can change the interface layouts and sizes from gadget's settings. By default, it will not download the missing artworks, but can be enabled from settings.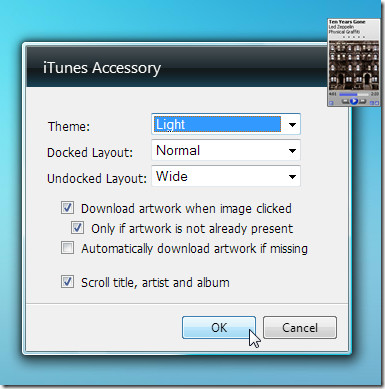 It works on both Windows Vista and Windows 7. We tested it on Windows 7 x64 system.