How To Install Samsung TouchWiz Launcher On Android Phones [QVGA Fixed]
Although there are a number of launchers available for your rooted Android phones, but some people like going with established brands like Samsung. The renowned Android user interface of Samsung is TouchWiz Launcher, that is virtually over every Android device that Samsung manufactures. Launchers are basically extensive theming of stock Android firmware that is sometimes done for branding purposes.
Rooted users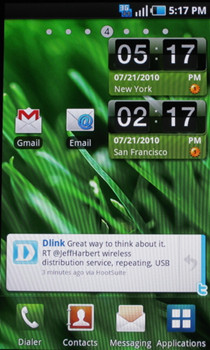 usually go for custom Android phone launchers like Launcher Pro and ADW launchers because of their usability.  This TouchWiz launcher is hacked to perform flawlessly on all kind of displays which includes QVGA screens too.
So if you are looking to get modded Samsung TouchWiz on your rooted Android phone, then follow these instructions.
The first step is to download the TouchWiz Launcher's APK file from this XDA-Developers forum and save it on your desktop.
Once the application is saved, connect your phone to the computer and mount SD card.
Now copy the .apk file to your SD card root and disconnect the phone.
Now go to Market and search for Astro File Manager. Download the app and launch it.
Now simply install the copied APK from the file manager and wait for the installation to complete.
Once the installation is finished, exit the file manager and press home key on the phone.
You will get an option to make TouchWiz your default launcher.
Although this is a great launcher, but we will still recommend you to stick to Launcher Pro or ADW launcher if you are used to them. There are some essential functionalities that this TouchWiz launcher lacks.
Disclaimer: Please carry out this procedure at your own risk. AddictiveTips won't be responsible for any damages that might incur to your device following this guide.
Picture Credit: IBtimes.com