How To Remove / Uninstall Android System Apps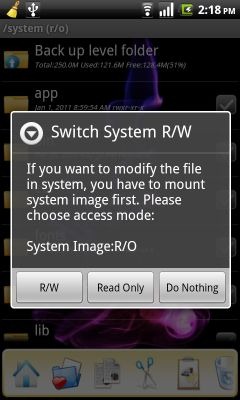 Removing or uninstalling regular Android apps is quite easy but when it comes to system apps, the process does not work the way it does for regular apps. Fortunately, there is a direct way of removing / uninstalling system apps that involves deleting their files directly. Although there are several methods of doing this, we will be taking look at the simplest.
There are a few ways of doing this depending on the tools you are more comfortable with. The method that we are going to use requires a root access file browser application on your Android phone.
Your phone needs to be rooted in order to proceed so if it isn't, search our site for "how to root phone_name", replacing 'phone_name' with the name of your phone. We have rooting guides available for almost all popular Android devices but if you can't find one for yours, mail us at tips [at] addictivetips [dot] com and we will be happy to feature one for your phone.
Make absolutely sure NOT to delete any critical system files. Usually if you do NOT know whether deleting a particular file is safe or not, ALWAYS make it a rule to NOT delete it. Apps like Facebook, Google Voice, Twitter, Gmail etc. can be safely deleted. Do NOT delete any file other than the .apk files for the apps that you want to get rid of.
Disclaimer: Remove system apps from your Android phone at your own risk. While the process is safe for most apps, removing critical apps or system files can potentially make your phone unbootable.
AddictiveTips will not be liable if your device gets damaged or bricked during the process.
The method:
You need a root access file browser installed on your Android phone to delete system apps. The most popular app for this purpose is called Root Explorer but it costs $3.95. Fortunately, there are free alternatives available and the one we'll be using is called Super Manager. You can install it for free from the Android Market. After you install it, launch it, bring up its menu and tap 'Setup'. Check 'Enable ROOT function' and grant the superuser privileges when requested. Super Manager is now ready to perform as Root Explorer.
Now simply browse to /system/app using Root Explorer or Super Manager. If you are using Super Manager, you will be asked for the access level you want when you open /system. Choose R/W for read and write access. Now just delete the apk files for the system apps you want to uninstall, and you're done.