How To Root HTC Sensation XL On Gingerbread With One Click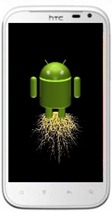 Got yourself an HTC Sensation XL and can't wait to take it to the next level of customization and tweaking? As most of us know already, that requires root access and often users have to wait to get that on the latest Android devices. Well guess what? The wait is over! We have confirmation  that the HTC Sensation XL has finally been rooted and even better, it is a permanent root solution rather than a temporary one. This has been achieved via the same method employed for the HTC EVO 3D, but has known to stick on after a reboot on the Sensation XL. The root uses the famous ZergRush exploit and will easily root your Sensation XL in no time. More information and the complete guide after the break.
Note that the root will be permanent  only if the bootloader of your Sensation XL is unlocked. However, that shouldn't be a problem as you can officially unlock your bootloader from the HTCDEV website whenever support is made available for the Sensation XL, which shouldn't be long. Those who already have unlocked bootloaders can enjoy permanent root access right away while those waiting to unlock it can still gain temporary root with this method.
Had enough details and can't wait to go on with it? Let's not make you wait any further then, and move on to the rooting procedure!
Disclaimer: Please follow this guide at your own risk. AddictiveTips will not be liable if your device gets damaged or bricked during the process.
Requirements:
Procedure:
To begin, download the root package from the link provided above and unzip its contents to your computer.
Make sure USB debugging is enabled on your device. You can enable it in Settings > Applications > Development.
In case the HTC USB drivers aren't installed on your PC already, right now would be the time to install them. You can download them from the link provided above. Also, if HTC Sync is running, close it.
Connect the device to the PC via USB and make sure to select Charge only mode.
Open the extracted zip package and run the runme.bat file to begin rooting your phone. Once it finishes, you'll have root access!
As we mentioned above, this root access will be temporary if the bootloader of your device isn't unlocked, and you will lose root access upon reboot. In case you need it again, simply repeat steps 4 and 5 to get it back till the next reboot. Enjoy!