How To Root Viewsonic Viewpad 7 Android Tablet With SuperOneClick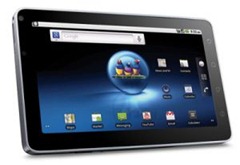 Viewpad 7 is Viewsonic's 7 inch Android tablet that's been out for a while now and recently, there have been reports of successfully rooting it with one of the most widely used universal rooting methods – SuperOneClick. For detailed instructions, read on after the break.
Viewsonic Viewpad 7 is a pretty neat 7 inch Android tablet and comes at a decent price as well, compared to other similar sized devices. Rooting this tablet gives you the benefit of being able to install thousands of apps that require root access to work. Fortunately, rooting the tablet is really easy and anyone can do it without having to enter any commands.
If you are unsure whether you should root your device or not, check out our guide on top 10 reasons to root your Android device and for our collective coverage of all things root related to Android, see our guide on how to root your Android device.
Credit goes to XDA-Developers forum member veryhip for verifying that SuperOneClick can successfully root this tablet and to lakehousetech for providing us with these step-by-step instructions.
Disclaimer: Please follow this guide at your own risk. AddictiveTips will not be liable if your device gets damaged or bricked during the process. Also, rooting voices your warranty.
Visit our detailed guide on SuperOneClick, download the latest version of the tool from there and extract the contents of the zip file to your computer.
On your tablet, go to Menu > Settings > Applications > Development and enable USB Debugging.
Connect your tablet to your computer via USB.
Right-click SuperOneClick.exe from the files extracted in Step 1, and click 'Run as Administrator'.
In SuperOneClick, select the 'rageagainstthecage' radio button and click 'Root'.
Wait patiently and in case of no activity for over 30 seconds with the SuperOneClick display stuck on 'Running rageagainstthecage…', disconnect your tablet from the computer and reconnect it.
SuperOneClick should now say '***IF IT KEEPS LOOPING, TRY DISABLING USB DEBUGGING NOW***'. Don't worry and let it continue.
It will now ADB reset and say 'waiting for device' after which you will get a rooting successful prompt. The device should be rooted now.
SuperOneClick should now prompt you to verify that rooting has been successful. Simply follow the instructions for verification and you're done.