Install Android 2.3 Gingerbread AOSP ROM on Nexus One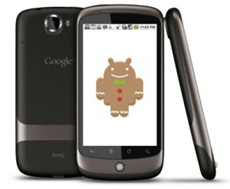 Google just started pushing Android 2.3 Gingerbread source code to AOPS (Android Open Source Project) earlier today, and ROMs based on the AOSP code have already started to surface in the developer community. Now you can grab one for your Google Nexus One to experience the latest Android release on it in all its Gingerbread goodness. Read on after the jump to find where to get it from and how to flash it to your phone.
Disclaimer: Please follow this guide at your own risk. AddictiveTips will not be liable if your device gets damaged or bricked during the process.
Released by Chris Soyars, his ROM is a vanilla AOSP build and contains no proprietary applications at all, including the Market. Therefore, you will have to try out the available market builds to see if one works with this ROM. All the core Android features are working, except for camera.
A few users have reported that they got Google Apps to work with this ROM. You can head over to the ROM's discussion thread at the developer's website (no longer available) and follow the discussion for workarounds as users keep on discovering them.
To flash this rom, your phone MUST have the 35.0017 hboot, or it will not work. Also, installing this ROM may overwrite any custom recovery that you are using, so proceed with caution. To flash it:
Download the ROM from the link given below and copy it to the root of your phone's storage card.
Make SURE that your phone has the 35.0017 hboot. In case it doesn't, grab it from the link given below and install it.
Power your phone off and put it in recovery.
Take a nandroid backup.
From recovery, choose to install zip from sd card, select the zip copied there in Step one, confirm any prompts and wait while the ROM is flashed.
Reboot your phone from recovery, and you're done.
Download Gingerbread AOSP ROM for Nexus One (Link no longer working; we recommend installing CyanogenMod 7 instead)
Download hboot 35.0017 for Nexus One