Install Android 2.3 Gingerbread Keyboard Language Packs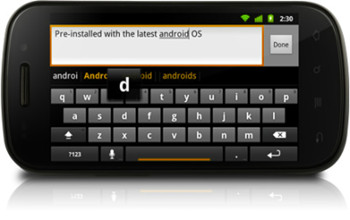 With the release of Android 2.3 Gingerbread, the keyboard of the latest Android release has been ported to other phones. We wrote a how-to guide on installing Android 2.3 Gingerbread keyboard on Samsung Galaxy S. Today, the folks at XDA-Developer forums have released language packs for the new keyboard, and we will show you how to install them.
These language packs are presently available for Swedish, Italian, French, Spanish, German and English. At present, multi-language support is not available and copy/paste isn't working.
To install, download the language pack for your language from the list given at the end of this article, and transfer it to the root of your storage card. Copy the '.zip' file as it is, without extracting its contents.
Reboot your phone in recovery mode by keeping the power and volume down keys pressed. Once in recovery mode, take a nand backup and toggle off signal verify first using the menu options. Then head back to the root of the recovery menu and select 'Flash ROM from SD Card' to choose the language pack you transferred to the phone, and confirm by following the instructions. Once it has flashed, reboot the device and you're done.
You can now enjoy using the language of your choice on your Android 2.3 Gingerbread keyboard.
Download English Language Pack
Download Spanish Language Pack
Download French Language Pack
Download German Language Pack
Download Italian Language Pack
Download Swedish Language Pack