Install Android Gingerbread EF02 Official Build On Epic 4G [Guide]
Samsung Epic 4G is a high end Android device that was able to capture a huge fan base in US. Although there are many who'd like waiting for official Android 2.3.3 Gingerbread roll out for Epic 4G, but for those who can't wait, there is a leaked Firmware EF02 build now available. The credit for this official Gingerbread leak for Samsung Epic 4G goes to Samsung Firmware. Samsung Firmware is known and pretty much trusted entity for releasing unreleased yet official Android firmware. Until now, most of their firmware releases were only for Asian / European Samsung Android device versions and we believe that this one is the first official US focused firmware build release.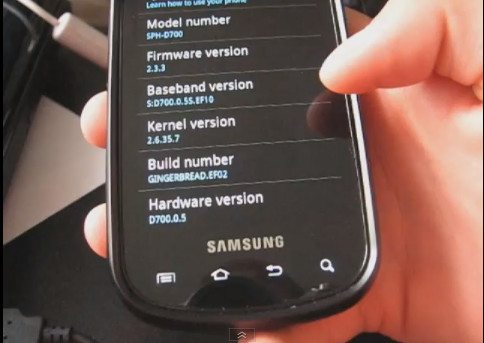 Here is what Samsung Firmware folks have to say about this Epic 4G GB release:
EXCLUSIVE Samsung SPH-D700 Epic 4G!
Like we already told you Wednesday we reopen our USA part on SamFirmware.com
We also told you we will bring some EXCLUSIVE firmware files for our USA friends!
This time it is for the Samsung SPH-D700 Epic 4G .
We have 1 great firmware: D700EF02
We hope you like it!
Download the rom via toolbox.
SamFirmware Team.

See here some details of both roms:
Samsung D700
Firmware: D700EF02
Android Version 2.3.3
Build date: June 2011
Here are the step by step instructions to flash / install Android 2.3.3. Gingerbread EF02 official leaked build on Epic 4G:
Disclaimer: Please follow this guide at your own risk. AddictiveTips will not be liable if your device gets damaged or bricked during the process.
The first step is to download EF02 Android 2.3.3 Gingerbread update for Epic 4G from here, unzip the archive and save the contents on your desktop for easy access. There will be 4 files in D700EF02 extracted folder and the password, if prompted, is samsungfirmware.com.
Now power off your device and connect your phone to the computer via USB Cable.
Now double click to execute the ODIN file located in D700EF02 folder on your desktop.
Once you can see the ODIN interface, click on PIT tab and point to .PIT file located in D700EF02 folder.
Now click on PDA box and point to the .Tar file available in the D700EF02 folder.
After this put your phone in Download Mode by holding the 1 button on your keyboard along with power button.
Once in the download mode, connect your phone to the computer via USB cable. After you connect the phone, you will see ODIN pop-up with Com 6 field highlighted.
Now click on Start and wait for the process to complete. Process progress indicator bar on phone will show the progress while flashing the new EF02 firmware on your device.
After the flashing is complete, your phone will reboot and you see PASS field highlighted in ODIN.
And there you go! You now have Official EF02 Android 2.3.3 Gingerbread running on your Epic 4G. You can also follow this guide video if you are having difficulties with flashing this firmware update:
You can consult the XDA thread posted here to download CWM 3.1.0 along with any support that you might need.