Install ClockworkMod Recovery 5 On Xperia Phones With Locked Bootloader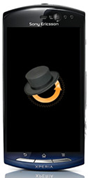 Sony Ericsson Xperia users with locked bootloaders lamenting on their inability to install custom ROMs and mods on their devices due to the lack of ClockworkMod recovery support, we've got some great news for you! You can now install ClockworkMod Recovery 5 on your Xperia devices very easily, without having to unlock the bootloader.The method works for devices such as the Xperia Arc, Neo, Neo V, Mini, MiniPro, Active & Live with Walkman. Excited about it and can't wait to get ClockworkMod up and running on your Xperia device? Read on for the complete guide.
This method comes to us from XDA-Developers forum member nobodyAtall and the best thing about it is how easy the whole process is. Now when we say, easy installation, we're talking about an automated script that does all the hard work for you. You were expecting a long, cumbersome method considering the locked bootloader, right? So were we, but as you will see shortly, the developer proved us wrong.
Ready to install ClockworkMod on your Xperia device? Just follow these instructions and you will have it up in no time.
Disclaimer: Please follow this guide at your own risk. AddictiveTips will not be liable if your device gets damaged or bricked during the process.
Requirements:
A rooted Xperia Device.
Stock 2.3 firmware.
Instructions:
Download the CWM package from the link above and extract the contents.
Enable USB debugging on your device and connect it to the PC.
Now if you have an Xperia Arc, Neo or Neo V, run install-cwm1.cmd. If the device is an Xperia Mini, MiniPro Active or Live with Walkman, run install-cwm2.cmd.
Now simply follow the onscreen instructions, and you will have CWM 5 installed on your device in no time.
There you go – your Sony Ericsson Xperia device now has ClockworkMod recovery installed, without even having to touch the bootloader. You can now install all the ROMs, apps and hacks that don't require messing with the boot/kernel. For further updates or queries, head over to the forum thread at XDA-Developers.
Note that for installing full ROMs that include custom kernels and boot images, you must still unlock your device's bootloader. Fortunately, that can be done easily as well, and we have featured a guide for you right here at AddictiveTips that takes you through the complete process, as officially provided by Sony Ericsson. Sony Ericsson Xperia X10 users can unlock the bootloader of their device using this guide instead.