Install CyanogenMod 7 Android 2.3 Gingerbread ROM on Nook Color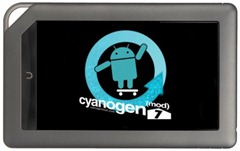 First Honeycomb, then Ubuntu and now Gingerbread based CyanogenMod 7 – things keep on getting better and better for Nook Color custom Android development as the device now has a functional CyanogenMod 7 port that you can install on it and turn your eBook reader into a full-fledged Android tablet. Read on for our complete guide.
The Nook Color seems to have become the HD2 of the tablet world as it keeps on running everything thrown at it. This custom CyanogenMod 7 ROM is based on the CyanogenMod 7 source code and has been ported to the Nook Color by the CyanogenMod development community. The port runs on the internal memory of the device and is pretty functional for a nightly release, though some features might not be working at the moment. Home and Back button functionality has been implemented via soft keys on the status bar.
What Works and What Doesn't:
Touchscreen, Wi-Fi, sound, accelerometer and pretty much every hardware feature except for Bluetooth appears to be fully functional, though hardware video acceleration has yet to be figured out and thus, native video playback isn't working but flash video playback is functional. Amongst the software features, almost all Android Gingerbread features and most third-party applications are working fine but some problems have been reported with Market and a few third-party apps.
All the missing features are being actively worked upon and are expected to be resolved soon, In the meantime, you can use a few workarounds posted at the CM7 Developers Thread at XDA-Developers.
Requirements:
Custom ClockworkMod Recovery with ext4 support (Download the version for your SD card size and extract the .img file from the .tar.gz archive).
A microSD card reader. (A USB one or one that comes built-in with the computer.)
A tool for writing a data image to the SD card:

Windows: We will use free tool ImageWriter. Download it and extract the contents of the zip archive to your computer, or use any disk image writing tool of your choice.
Linux: Command line tool dd that comes built-in with most Linux distributions can be used.

CyanogenMod 7 ROM for Nook Color (Grab the latest one from the list if you don't know which one to choose)
Google Apps (Optional; download the latest version for the version of CyanogenMod you grabbed from the previous link.)
Dalingrin's 1.1 GHz overclocked Froyo/CM7 kernel (Completely optional; use only if you selected a CM7 ROM from the list above and want to overclock it; may not work on 7.1 or later and nightlies released after CM7 stable)
Procedure:
Connect your SD card to your computer using the card reader.
This step depends on your operating system.

Windows: Launch ImageWriter on your computer, browse to select the recovery image file that you downloaded and extracted earlier, select your SD card drive under 'Device' and click 'Write'. Wait till the process finishes.
Linux:Launch a terminal window and enter this command in it:

dd if=name_of_the_image_file.img of=/dev/sdcard

Don't forget to replace /dev/sdcard with the appropriate path of your mounted SD card and name_of_the_image_file.img with the appropriate ClockworkMod Recovery image file that you extracted from the downloaded archive, specifying its path too if necessary.

Now transfer the zip files for the downloaded ROM, Google Apps and overclocked kernel to the root of the SD card (and not in any folder there).
Power off your Nook Color, insert the SD card into it and power it back on.
You should now be in ClockworkMod recovery. Use Volume-Up and Volume-Down for navigating between the options, 'N' to enter/apply the selected option and Power as back.
In recovery, go to 'Mounts and Storage' and format /system, /data and /cache partitions one by one, confirming each time. DO NOT format the /boot partition.
Go back to the main recovery menu and using the 'install zip from sd card' option, install first the ROM and then the Google Apps zip files.
(Optional) Similarly install the kernel from its zip file.
Get back to the main recovery menu.
Now remove the SD card and either replace it with another one for use in Android if you want, or you can simply format this one now and insert it back. However, if you choose to format this one, you will have to again prepare it with ClockworkMod recovery the same way that you did in step 2.
Finally, select the option 'Reboot system now' and your device will boot into CyanogenMod 7.
IMPORTANT NOTE: Do NOT use your Nook to format the SD card after installing CM7. There's a bug and it will format /boot instead, returning you to the black screen problem and you'll have to repeat the process. (Thanks to HittingSmoke for pointing it out.)
You should now be running CyanogenMod 7 on your Nook Color, effectively turning your eBook reader into a kick-ass CM7 Android tablet optionally overclocked to 1.1 GHz.
IMPORTANT UPDATE:
This is only for those who used the previous method and ended up with their tablet not booting into Android. If you only followed the above instructions with the latest stable build, this does not apply to you.
The original instructions included formatting the /boot partition as that was required at the time of writing this post because the latest nightly version of CyanogenMod 7 available back then included a /boot partition and installing the ROM automatically installed it in place of the formatted one. However, the later nightly versions of CyanogenMod 7 released after the time of publishing this guide did not include the /boot partition and thus, installing those after formatting your /boot partition left your device with an empty boot partition, making it unable to boot.
This was an issue we had no way of anticipating at the time of writing this guide and thus, couldn't have been avoided by us. However, the devices did not get bricked and can be restored easily using the instructions provided by HittingSmoke in the comments. Here are the same instructions organized in a step-by-step list:
Download Clockwork Recovery 3.2.0.1 img and follow the same method of putting it on the SD card as above, using Win32 Disk Imager.
Next, download repartition-boot-with-stock.zip and nook-complete-restore-1.0.1.zip (should not be required anymore; use the method in Update 2 instead.)
Copy them both to the SD card that you made with Win32 Disk Imager.
Insert the SD card into the Nook and hold the power button until it boots into recovery again.
Under Mounts and Storage, format /boot, /system, /data and /cache. (Yes, it is safe to format /boot this time.)
Using the "Install zip from sdcard" option, flash 'repartition-boot-with-stock.zip' followed by 'nook-complete-restore-1.0.1.zip'.
Take out the SD, reboot and you'll be back to a working stock Nook.
After following the above instructions to restore your Nook Color (thanks to HittingSmoke), you can follow the above guide to successfully install CyanogenMod 7 to your device. The guide has been updated to remove the instruction on formatting the /boot partition and it should work flawlessly now with the newer CyanogenMod 7 nightly builds that no longer include the /boot partition.
UPDATE 2:
Just in case you earlier messed up your device due to the missing /boot partition in updated CM7 nightly builds and the method by HittingSmoke doesn't work for you, here are the instructions  (from this XDA-Developers forum thread) that should install a custom FroYo ROM on your Nook Color and enable you to boot back into it:
Download this Nookie Froyo 0.6.8 Custom eMMC .3 file.
Unzip the downloaded zip file and burn the extracted image file to your SD card.
Boot your Nook Color from the SD card.
Select to install zip from SD card. You should see a file called 'nookie-froyo-flashable-v0.6.8.custom.zip' when you select 'choose zip from sd card'. Simply select that zip file to flash it.
Go to 'Mounts and Storage', format cache from there and then get back to the main menu.
Now remove the SD card and choose 'Reboot system now'.
You should now have Nookie Froyo 0.6.8 custom ROM running on your Nook Color's internal eMMC memory, fixing the wiped /boot partition in the process. You should now be able to safely follow the above guide to get Gingerbread based CyanogenMod 7 nightly on your device.