Change Intel Core 2 & Core i3, i5, i7 Default CPU Throttling Scheme With ThrottleStop
You might have heard about CPU overclocking which is, generally, referred to as using full CPU speed and resources to boost CPU processing time up to the highest level attainable. Overclocking is something which has been both lauded and discouraged. The reason being that it increases CPU processing time but consumes more power than normal, which means your system can quickly heat up, causing some serious damage to CPU, Motherboard, and other hardware components. CPU throttling is opposite of overclocking. It makes CPU conserve power and can be applied on laptops. CPU manufacturers apply some throttling schemes in CPUs which are to be used in laptop PCs, so they can consume less battery power.
ThrottleStop is developed to modify and monitor performance of Intel Core 2, Core i3, i5, and i7 processing units. It allows you to tweak with default CPU throttle scheme, so you can make use of CPU resources according to your requirements.
Important Note: It is highly advisable that you should not tweak with CPU throttling schemes without having complete knowledge, as doing so may cause some serious system havoc.
For user's convenience, it offers 4 profiles to quickly jump between different throttle settings, such as, Performance, Game, Internet, and Battery. You can change the default profile settings according to your CPU and hardware specs.
To begin, just launch the application and configure settings for Clock Modulation, Chipset Clock Mod, and Multiplier. Moreover, you can toggle CPU Turbo, C States, More Data, Power Saver options On/Off. The current CPU state is shown in the main window. Before clicking Turn On button to run customized CPU throttle scheme, choose the profile which best suits your work needs.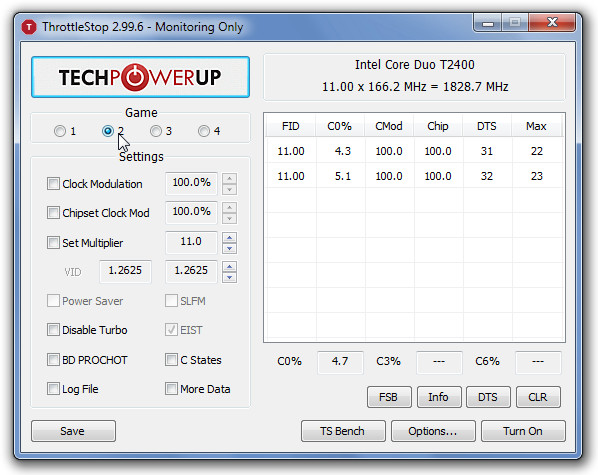 The application can be minimized to system tray, letting you enable and disable ThrottleStop active scheme and switch between available profiles.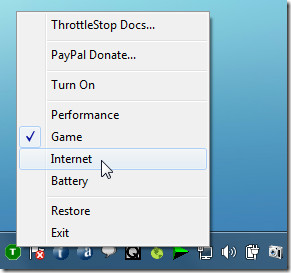 We recommend going through detailed guide available on product page to understand different situations where you can use ThrottleStop along with all the risks involved. It works on Windows XP, Windows Vista, and Windows 7.