Search And Download Free Windows Phone 7 Marketplace Apps XAP Files To PC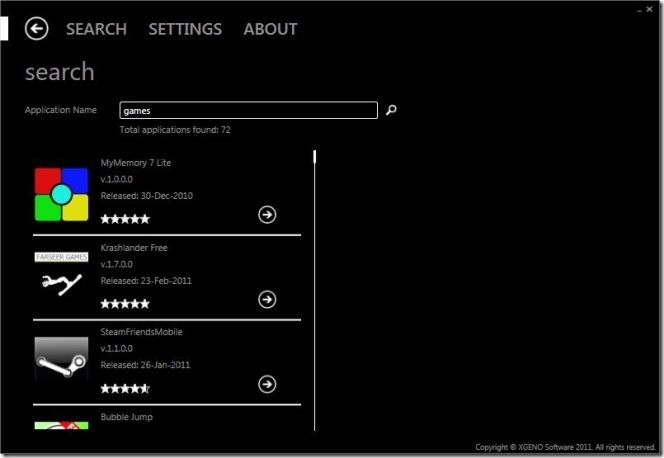 XGENO.WindowsMarketPlace is a free tiny Windows utility that lets you search for free Windows Phone 7 Marketplace apps and download their installable XAP files to your computer. You can then transfer the XAP files to your ChevronWP7 unlocked Windows Phone 7 device and install them. Do note that you will not be able to install the files if your phone hasn't been unlocked with ChevronWP7.
While Zune lets you easily search for and install apps on your Windows Phone 7 device from your PC and the built-in Marketplace that your phone has allows you to do the same directly on your phone, neither of these methods give you an option to search exclusively for free apps. Marketplace does provide you with a list of free apps but when you choose to search, it includes paid apps in the results. Furthermore, neither of these methods allow you to directly download the installable XAP files on your computer or phone to use for installing the apps on a device without internet access or one without Marketplace activated, as the case might be with some HTC HD2 devices running Windows Phone 7.
Enter XGENO.WindowsMarketPlace – this literally tiny standalone tool weighs in at a mere 274 KB but don't let its small size fool you – it does what it does and it does that to perfection. The straightforward interface is rather appropriately designed with the Zune and WP7 Metro user interface.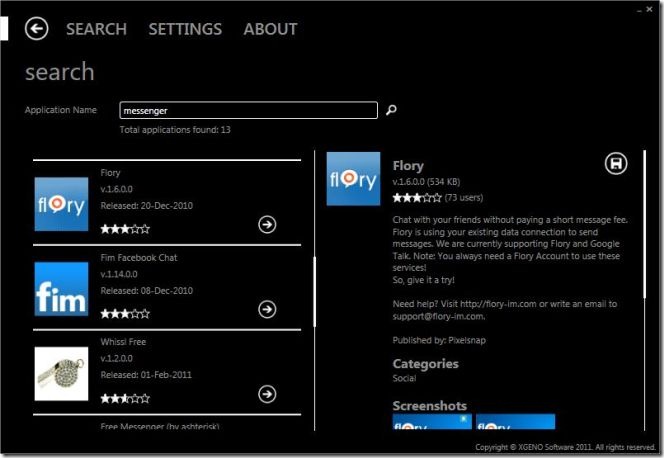 To run the tool, just download it from the link given below and extract the contents of the zip file to your computer. You can then simply launch the tool and start using it – no installation required. An awesome feature of the tool is that it sorts the search results by rating, with the highest rated apps showing up on top – something missing from Zune and Marketplace search. Clicking on the arrow next to the search result entry for an app shows its details in the right hand pane along with a button to save it.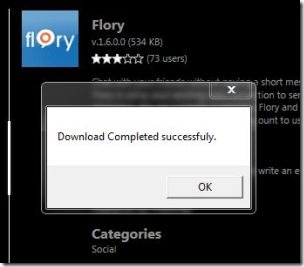 Upon clicking the save button, the app will go completely unresponsive and that might lead you into thinking it has hanged but don't worry – it is downloading the XAP file in the background. Once the download is complete, it will show you a prompt, stating that the download has been successful. You can now find the XAP file for the downloaded app in the folder specified in the settings.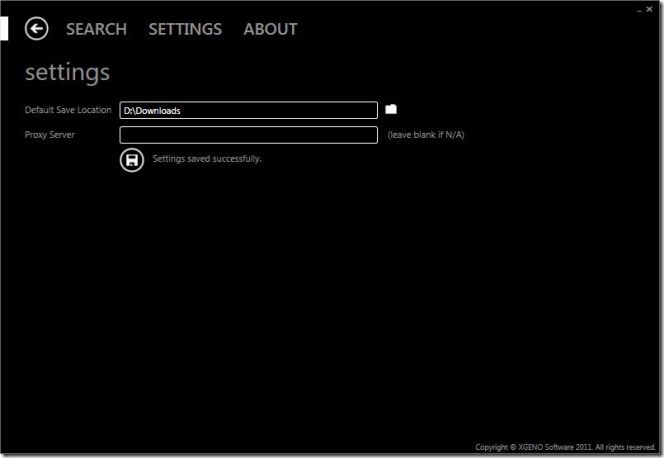 Before you can download a file, you need to specify a download location in the settings. Don't forget to hit the save button once specified. Now, you are ready to search for all the free Marketplace apps using the search section of the tool. The settings section also allows you to specify a proxy server if you are behind a firewall or if you want to download the files anonymously.
XGENO.WindowsMarketPlace is a free tool for both 32 bit and 64 bit versions of Microsoft Windows. Testing was done on Windows 7 64 bit.
Download XGENO.WindowsMarketPlace (We are hosting on our servers in case the app goes down)