Install MIUI Custom Camera App On Samsung Galaxy S / Vibrant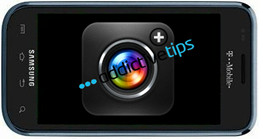 Now when Samsung put in the wonderful 5Mp camera into the Vibrant, we think they got a little too carried away with the touch to focus functionality. More on that in a while, the interface is big and too bold taking up almost 3/4th of the screen when you're trying configure any settings. While that may not bother some and appeal to some, we find it too cluttered. And whatever happened to swiping your fingers across the menu to scroll through the various options? The MIUI Camera app, tries to fix all that. Read on for more on this app.
We tested this app out, on our Samsung Galaxy S, which is essentially the same as the T-Mobile Vibrant. The camera interface as you can see, is very minimalistic with everything clearly laid out. The icons rotate nicely when you switch to landscape or portrait mode. You see that green focus spot? Yes, that's something that actually caught our attention. No, we don't like green, but we like the ability of the app to auto focus contrary to the native camera app that would only auto focus if it finds some good looking faces. Yes, the native app does not auto focus on objects, you have to tap the screen and that's where it focuses. That is a huge motive for a few to move to this app, considering touch to focus isn't actually that convenient.
Below you can see how the options in the app pan out. To be fair, we weren't much impressed by the options this app brings along. Compared to the native camera app, these features seem pretty neglected. However, you can move through these options by swiping the fingers instead of hitting direction buttons.
Now the final area of concern that actually dealt a huge blow to this app; the Video Recorder. No recording at 720p!? That's it, we don't care if this app could see through walls even anymore! You can clearly see what happened when we tried tapping the 720p option.
So, what do you do with such apps? I mean we really liked the auto focus aspect of the app, but then where does it leave the video recording shortcoming to? If you can manage 2 camera apps, one for recording and one for taking photographs, this should do nicely. We, well, have no more to say after the 720p recording disappointment.
Since this app is not on the market and leaked on XDA-Developers, you have to install this app via recovery. Also, this app will NOT replace your native camera app. So let's install it!
Requirements:
Instructions:
Copy the app you downloaded to the root of your SD card.
Now reboot into recovery and navigate to install zip from sdcard > choose zip from sdcard and select the app you copied to the root of your SD card.
When you select it you will be prompted with whether to install the file or not. Choose Yes.
After the installation is complete, reboot your phone.
That's it, the MIUI Camera app is now installed on your phone, go play around with it!
For updates and queries regarding this app, visit the forum thread at XDA-Developers.