Manage Contacts, SMS, Music, Photos Of Any Android Device With Wondershare MobileGo
An application which packs all the management features for organizing contacts, SMS, music and videos, can bring a lot of comfort in streamlining phone data. Wondershare MobileGo is such an Android data management utility which makes managing your phone data utterly seamless. It was developed to assist users in managing their contact list, messages, music files and movies, and photo albums.
Apart from having obvious features of a data management utility, such as, data transfer,  synchronizing latest changes, backup and restore data, it provides powerful SMS management to view and delete messages with facility to send messages and show recently received messages on the fly. Furthermore, you can select all the messages in your inbox and export them in TXT format to any local location. Contact list management is simple yet intuitive. It allows sending messages directly to multiple recipients, export only selected contacts from the list, and edit contact information.
Before starting out, it is required to turn on USB debugging mode on your Android handset. If you're using HTC Sync, you need to Tap on Sync option to let Wondershare get your phone ready for reading phone data. The internet connection is required for fetching required files which are to be installed on your phone for establishing connection. Once your phone is connected, you will see total phone and SD card memory usage with option to instantly create complete data backup. Now give this connection an appropriate name to view and manage contacts, SMS, music, videos and image file listings.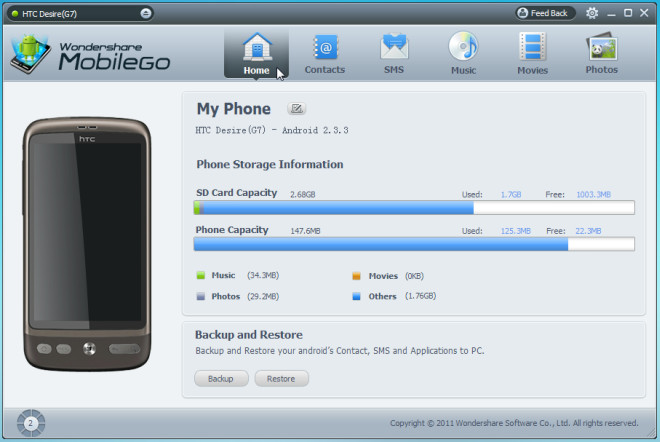 The Contacts window lists down all the contacts with users-defined contacts groups. A click on All Contacts in navigation bar reveals contacts list in main window. You can right-click contact item to edit the contact info, export, delete, send message, and move it to any group. It also enables you to perform operations over multiple contacts, such as, add new group to move the selected items, delete them, and send message to all selected contacts in one go.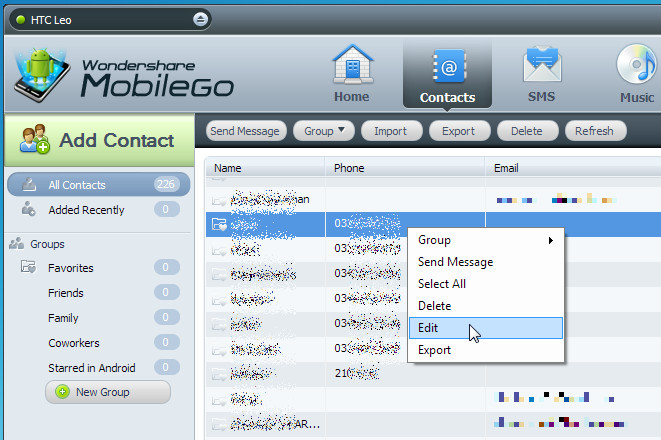 The SMS window allows you to view received messages from selected sender. The contact list is shown in left side, letting you delete conversation thread, reply, and view list of messages received with both date and time stamps. To compose a new message, click New Message present over navigation bar to enter recipient number and text.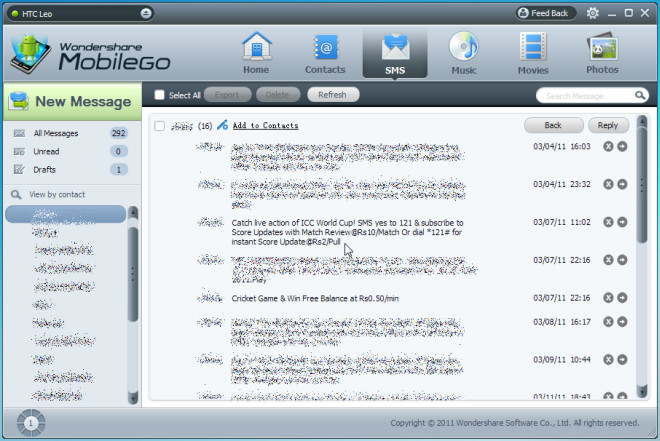 Similarly, you can manage Music, Movies, and Saved Photos. Simply click Add Music, Movies and Photos to specify the compatible music files, and video files, and images respectively. The folders containing media files are listed in left sidebar, so you can easily browse through them to add, view and delete files.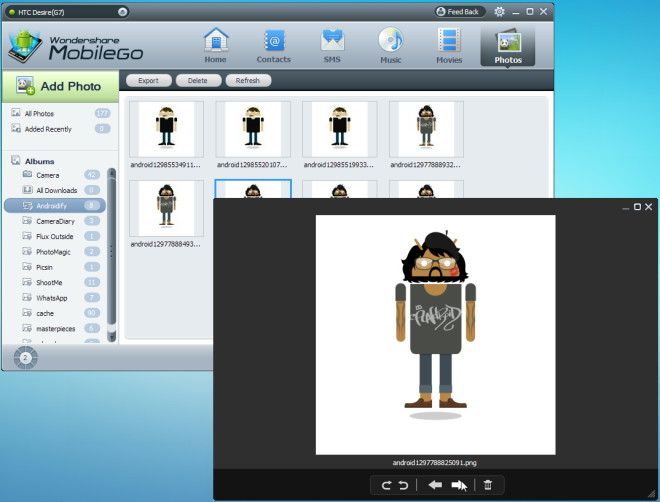 Wondershare comes with minimal configuration to setup. From Setting window, you can disable auto-update and set compatible video file format and resolution. You might also like to check out Android Manager Wifi to manage phone data over the WiFi connection.