Install Official Honeycomb 3.2 Rooted ROM On Motorola Xoom Wi-Fi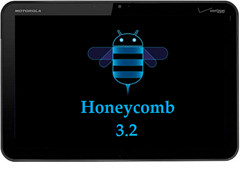 Rumors have been going around the internet for a while, of a Honeycomb 3.2 update in the works for the Motorola Xoom Honeycomb tablet and that Xoom owners might be seeing it sooner then expected as an OTA. While the update may not have rolled out on massive scale, XDA-Developers forum member stachre has managed to release the 3.2 update for the Motorola Xoom Wi-Fi and put it up for download. According to him, the update has only been tested on a US Xoom Wi-Fi (MZ604) model running Honeycomb 3.1 stock, and he believes that if you try this update on a Xoom Wi-Fi based outside the US, or a model other then the US one, you may brick your phone. Similarly, trying this update on your Xoom 3G may brick it as well, so be very particular about this.
Here's a summary of what the update consists of as per the developer:
– Updates the Xoom Wi-Fi from 3.1 HMJ37 to 3.2 HTJ85B using ClockworkMod Recovery (update.zip).
– Resolves issue in updater-script: get_prop ro.product.device wingray.
– Updates system partition (stock 3.1 HMJ37 system/ROM is required at this time).
– Installs Superuser.apk and su binary to enable functioning root (thanks, chainsdd).
– Flashes the boot (kernel) partition with rooted stock 3.2 kernel (thanks, solarnz).
– Stock kernel means no extras (overclocking, etc.) from custom kernels.
– Leaves existing recovery partition intact (stock 3.2 update overwrites it on every reboot).
– Leaves user data intact.
– Includes Android 3.2 support for hardware SDCard (shows in Settings > Storage, /mnt/external1).
If you're wondering about custom kernels for the 3.2 update, there are none as yet so you will have to do with the stock 3.2 kernel.
Installing this update on your device is a breeze, we'll show you how.
Disclaimer: Please follow this guide at your own risk. AddictiveTips will not be liable if your device gets damaged or bricked during the process.
Requirements:
Instructions:
To begin download the update from the link above and rename it to update.zip.
Reboot the Xoom in recovery mode. (When you see the Motorola logo splash screen as the device boots up, press the Volume down button to scroll through the boot options, and select Android recovery.
In the recovery, select mounts and storage and then mount USB storage. (Your device should be connected to the PC via USB at this point.)
Now copy the update.zip file to the root of the SD card.
Once copied, select Unmount.
In the Mounts and Storage Menu screen, if the option unmount /sdcard is present, continue to the next step; if mount /sdcard is present, select it and continue.
Go back to the main menu in recovery and select apply update from sdcard > Yes – Install /sdcard/update.zip.
Once the installation completes, simply reboot your device and cross your fingers.
That's it, your Xoom should now boot into the new Honeycomb 3.2 and you should have complete root access on it as well. For updates and queries, visit the forum thread at XDA-Developers.