IP Webcam – Turn Your Android Phone Into Live Spy Webcam
Thinking of turning your Android phone into a network camera? Yes, it is possible. Ip Webcam can turn your phone camera into a webcam and do tweaks like image quality, image size, and set login & password to secure it. On the top of all these features, no special player is required, you can preview video on famous browsers like Mozilla Firefox and Chrome. The tool is multi-platform supported, and can be used in combination with several third-party desktop apps, such as The KM Player, VLC Player and Skype etc. What's even better is that it doesn't even require you to be connected to the internet in order to avail the surveillance feature, since it can work absolutely fine over the home network, too.
Download IP Webcam from Android Market and run it. Main settings will appear on your screen with the camera preview on the background. Variety of image sizes are available depending on your camera resolution. Image quality can be adjusted as well (this is actually recording quality, the higher it is the more bandwidth it will take).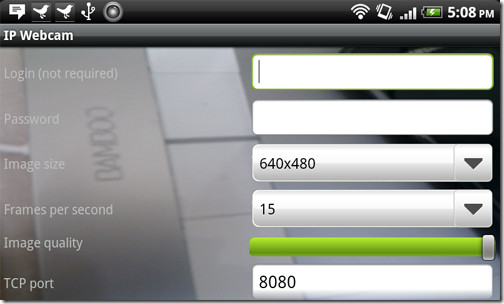 Scroll down to the bottom and hit 'Start Server' to get rolling.
RELATED READING: Best VPN for Android devices who value privacy.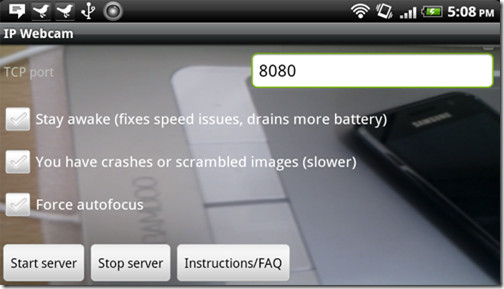 If you set your resolution higher, it might get broken on certain devices and the application generates a notification because it might give you a scrambled, pixelated or a all green video. This totally depends on the model and camera resolution of your phone. If your Android phone has a 5 megapixels camera, you shouldn't be facing such problems. Press OK to ignore the message and hit start server. On the bottom of the screen webcam server URL will appear, stating 'server is running at https://192.1.0.1:8080'.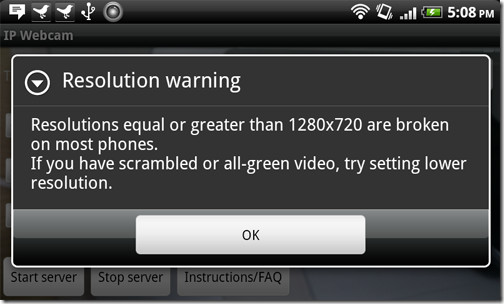 We gave it a shot in Chrome because the video was not appearing in Firefox. Type in the URL and Android Webcam server page should appear with a number of options. You can also live stream from your camera to VLC Media Player. To view live stream directly in the browser, Java browser plugin is required.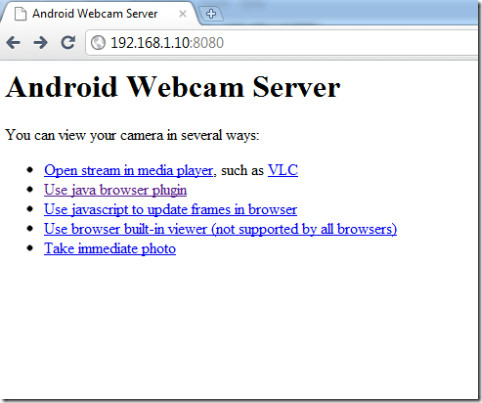 One of the bonus features is that a quick photo can be taken via Take Immediate Photo function.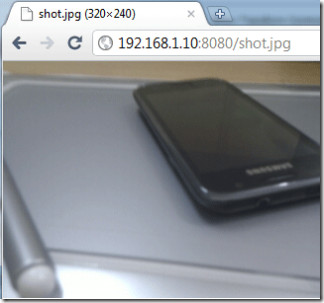 The results vary from phone to phone, completely dependent on the camera. We tested it on HTC Desire and it worked great!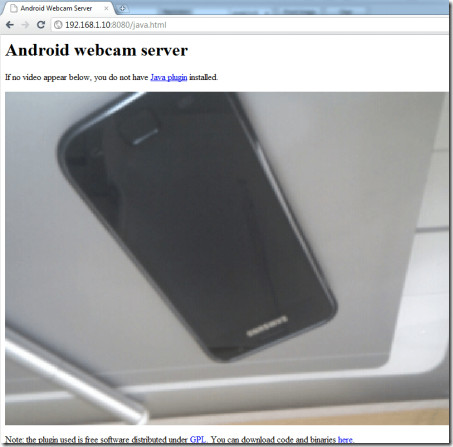 A great free application to turn your Android phone camera into a network camera for either spying or simply using it as a surveillance camera.
IP Webcam is available in the Android Market as a free app and can be downloaded via the link provided below.
Download IP Webcam For Android