LauncherPro Developer Releases WP7 Music Player Look-Alike For Android
Previously, we have seen Windows Phone 7's simple yet elegant "Metro" user interface duplicated on Android in homescreen replacement apps the likes of Launcher 7, 7 Launcher and Metro UI. LauncherPro developer, Federico Carnales is working on a "WP7ish music app" for Android. The developer released an alpha preview of his Zune Music Player doppleganger yesterday on his Twitter account, mentioning that it was yet to be given a name.
Apart from the fact that this Android 'Metro Player' (let's just call it that for now) does not, of course, support Zune integration, it is close to identical to Windows Phone 7's native music player. The user interface is an absolute gift for the eyes and the animations are smoother and faster than those seen in the aforementioned WP7-style launchers. We're hoping that the player doesn't run into legal trouble if and when it finally hits the Android Market. It would be a welcome addition to the shelves and an undoubtedly sleeker, less bland alternative to the stock Android music player.
Just like in the WP7 native music player, you can switch between artists, albums, songs, playlists and genres by simply swiping across the screen. Tapping an alphabet tile in the artists, albums or songs tabs brings up an alphabet grid for quick browsing. While within the player interface, tapping the album art of a currently playing song reveals Repeat and Shuffle toggle switches. Selecting the list of songs below the title of the currently playing song brings up the entire playlist.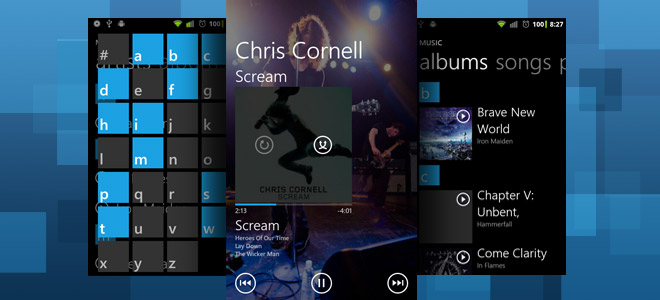 The player is surprisingly stable and feature-wise complete for an alpha preview. The only essential feature that is missing as of this writing, is a search bar, or rather, support for the Search button.
You can grab the alpha preview from the link below. To install the downloaded APK, you must enable installation of non-Market applications on your device. To do so, hit Menu while on the homescreen, then go to Settings > Applications and check Unknown sources.
Looking for an alternative to Fede's Music Player? Maybe you should consider taking InstaMusic out for a spin. As our detailed review about the app reveals, it brings forth lots of customizations, along with sporting WP7-esque looks, to give you the look and feel of a Zune style music player on your Android. Various options included within the package comprise lock screen support, specifying custom media location, playback control via headset, artist biographies, visually rich media library and lots more.
Download Fede's Music Player [Mediafire Link]