life.contacts Is A Sleek Android Widget For Frequently Used Contacts
Currently in beta, Sony Ericsson's life.contacts for Android is a free homescreen widget that automatically generates shortcuts to frequently used contacts, syncs contacts with Google and Email accounts, and provides an additional background service that forwards information on missed calls and SMS from said contacts to the selected Google/Email account.
As good-looking as it is handy, life.contacts is a splendid addition to the the Market and, even in beta, is definitely among the best contact widgets out there.

The widget comes in two sizes. The smaller one arranges 5 of your favorite contacts in a single line and the larger widget displays 9 as shown in the screenshots below.
For each displayed contact, the widget houses shortcuts to phone call, SMS, mail, contact details and social media (Facebook, Twitter) profiles. In addition, a life.contacts profile is generated for each contact in the widget. A shortcut to said profile is added alongside the aforementioned and a preview of the contact's last social media status update. The shortcuts bar displays three shortcuts at a time. Swipe across the bar to reveal additional shortcuts.
You may manually remove any contact from the widget by enabling the Hidden option in the contact's life.contacts profile. Said profile is accessible from both the widget and the contact's details.
You can sync life.contacts with your Facebook account to get profile pictures for each of the displayed contacts and to receive online SMS and missed call notifications on the affiliated Email address. Tap on life.contacts on the homescreen widget to access life.contacts online. Once you've registered an Email account with life.contacts, you may disable SMS and missed call info forwarding from within the Settings screen.
Notifications for unviewed SMS and missed calls are sent to your Email address with "My phone" specified as the name of the sender and "Sms received/Missed call from Contact Name" as the subject. The message body of a missed call notification merely specifies the time said call was connected while unviewed SMS are forwarded complete with the time of reception followed by the text message itself in the message body.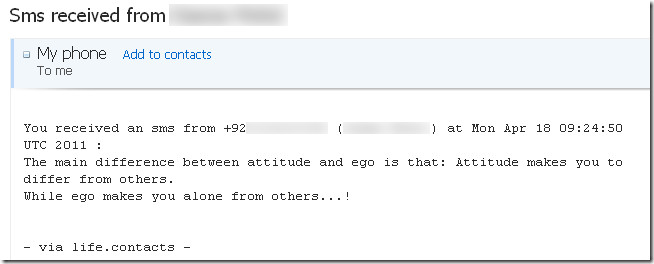 The app was tested to work without problems on the HTC Desire. You can grab the beta version for free from the Android Market via the link or QR code provided below.
Update: The app now supports high-res pictures of Facebook friends and allows you to remove all your data from life.contacts servers.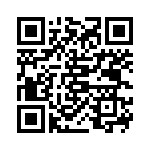 Download life.contacts Beta