Manually Update Galaxy Tab 10.1 To Official Android 3.1 Honeycomb
Earlier today we covered Android 3.1 Honeycomb official OTA roll out for Samsung Galaxy Tab I/O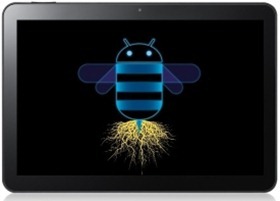 Version. And just now we discovered that if you have missed your OTA notification for whatever reason, then you can get your tab updated to official Honeycomb 3.1 manually. The method is only recommended for folks having ample command over ADB because a recovery flash-able zip isn't available as of now. This new OTA firmware update for Samsung Galaxy Tab 10.1 comes with some great improvements and new features. According to some users the scroll and tap smoothness has greatly increased.
Due to this update, you will be able to customize the Homescreen Wallpaper as well as tinker with Lock Screen one. The widgets are now resizable so you can save a lot of space on your launcher screen. The new update's Wi-Fi Icon now shows data activity and the stock browser is now "Tablet Browser" instead of mobile browser. This means that all online apps will be displayed according to your tablet browser specs.
Here are the step by step instructions from Droid Basement to upgrade your Samsung Galaxy Tab 10.1 I/O version to Android 3.1 Honeycomb. We haven't tested this method our selves, so we are quoting the source here:
Please note that this method isn't recommended if you don't have enough command over ADB etc. It is advisable to wait for a Recovery flash-able build which is less risky. In any case, you should make a Nandroid backup before embarking on this manual update process.
Reference Links:
Samsung Galaxy Tab 10.1 rooting guide
HC 3.1 – OTA (CWM Restorable) – Galaxy Tab 10.1

Installation Instructions:
Power down the device and plug in USB.
Enter fastboot by holding vol down and power, then pressing vol down then up to select.

fastboot boot recovery-cwm_3.2.0.1-sam-tab-10.1.img (latest is -0608; https://droidbasement.com/db-blog/?p=2032)

Unpack 2011-06-10.06.48.53.zip on your local desktop

adb shell mount /data
adb shell mkdir -p /data/media/clockworkmod/backup/2011-06-10.06.48.53
adb push 2011-06-10.06.48.53 /data/media/clockworkmod/backup/2011-06-10.06.48.53

Take a backup so you have a restore point, in case you run in to issues.

backup and restore -> advanced restore -> 2011-06-10.06.48.53 -> restore boot and restore system

wipe cache, unplug usb and reboot.

Note:
-If you encounter any issues from the update, please be advised that you may have to wipe your user data.
-This may work on the 'v' model, but it has not been tested against it.

Download (HC 3.1 – CWM Restorable Image(s)):
2011-06-10.06.48.53.zip
Download: 2011-06-10.06.48.53.zip

—–

HC 3.0 Fastbootable Images: (From IO) – System:
Download: system.zip

HC 3.0 Fastbootable Images: (From IO) – Boot:
Download: boot.zip

Source:
OTA via com.wssyncmldm
Disclaimer: Please follow this guide at your own risk. AddictiveTips will not be liable if your device gets damaged or bricked during the process.