StressMyPC Tests PC Performance Under Extreme Conditions
Gaming enthusiasts and IT professionals are known for spending a large amount of money on computer hardware. But sometimes system from the most well known brands contain faulty parts which do not provided optimum performance. If you have spent a good amount of money on your new system or would simply like to test the stress capability of your PC, then you should try StressMyPC. It is a portable application which is designed to test your hard disk, graphic card and CPU under stress conditions to help you determine if your system components will do well under stressful conditions, e.g. during gameplay or when a resource hogging applications are being used. This app is from the same developer who has brought us IsMyLcdOK and the quad pane file explorer Q-Dir.
Just select a stress test (Paint Stress for graphic GPU, CPU Stress test and Hard disk test) and click StressMyPC. You can either select a single or all three categories to perform the test(s). Once the test is initiated, all performance indicators will appear at the bottom with information regarding your computers performance.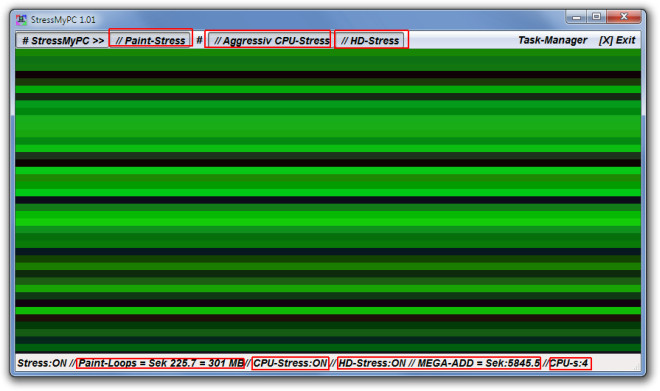 When performing individual tests, you can open Task manager or Resource Monitor to get additional information regarding the performance of your hard disk, CPU or graphic card. This can be helpful in identifying if your PC or Server will be able to sustain the load under testing conditions, e.g. gameplay or network load. To stop the test, click on StressMyPC button again.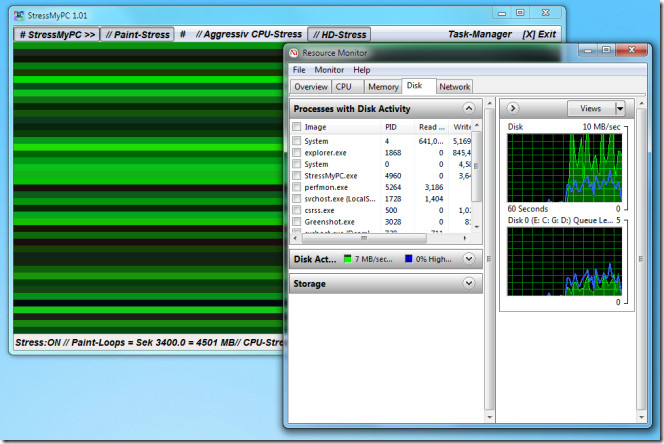 StressMyPC works on Windows XP, Windows Vista, Windows 7, Windows Server 2003 and Windows Server 2008.