Official Wikipedia App Finally Arrives In The Android Market
It may have taken a long time coming, but eventually, the official Wikipedia client for Android has been released to the Android Market by Wikimedia Foundation, which means you can now view whatever the popular online encyclopedia has to offer through its very own client instead of resorting to unofficial Wikipedia clients that have been hitting the Market at frequent intervals. The client's highlights include Wikipedia's article count of more than 20 million, support to read each in multiple languages, numerous other features such as bookmarking pages for offline reading, displaying popular articles relevant to nearby locations, real-time search suggestions, detailed search history, option to select best text bits for notes preparation, and customizable font settings.
Just like its website, the official Android client of Wikipedia focuses on the theme of 'keep things simple', and vows to become your 'go to' source for whatever piece of information your require from the internet. There are not too many bells and whistles associated with the app's interface, since the main emphasis is on information providing. That said, the overall layout of the app doesn't really score all that well. The app sports all the features as of its iOS counterpart, and is also among the most fluent and user-friendly Wikipedia clients available in the Android Market at the moment. On launch, the app displays the featured article of the day. Tapping the Wikipedia button before the search bar at the top takes you back to the app's homescreen.
Tapping the Menu button reveals the app's main menu, which provides access to all aforementioned features. While the Read in… button lets you instantly select a supported language in which you wish to read the currently opened article, hitting the Nearby button launches the map that displays various placemarks, each referring to a popular article related to locations in your vicinity.
Among other options available within the app's main menu, you have the Save Page option to bookmark the current article, and access it anytime you wish by selecting Saved pages from within the same menu. The History button, as evident by its name, displays a list of all recent search results.
Tapping the More button reveals the options to share the article with your friends, select required text from within it, and/or jump to the app's Settings screen to select the default language as well as the preferred font size.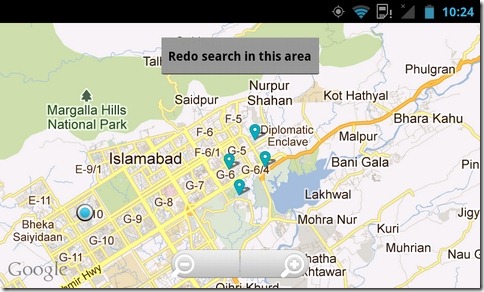 Download Wikipedia for Android