One Click Root, Recovery & Market Installation For Kindle Fire
Kindle Fire gets automated root, recovery and market installation! Earlier we covered a guide on rooting the Kindle Fire, followed by a guide on installing the Android Market on the device. Honestly, very tedious methods, and we're sure there are plenty of users out there with the Kindle Fire wanting to root their devices but are waiting for a rather simpler solution than the ones available. Guess what, that simpler (way simple!) solution is now available, thanks to XDA-Developers forum member Vashypooh. He has developed a tool that automates the rooting process, market installation, recovery installation (the new TW 2.0 touch based recovery) and much more. Aptly named, Kindle Fire Utility, it is going to become every Kindle Fire's owner dream come true.
The first step to rooting your Kindle fire was the installation of the ADB drivers, which again, was some tricky business. The tool now includes the drivers packed in a .bat script, and all you need to do is run that file to install the drivers so that the tool can now recognize your Kindle Fire.
According to the developer, the tool offers the following procedure for now:
Automatic elevation to root for tool operations.
Auto detect current bootmode.
Auto Detect ADB/Fastboot Online/Offline.
Auto download update.zip from Amazon.
Auto download and install TWRP Recovery.
Manage current bootmodes.
Manage Read/Write.
Install GoogleApps/Market/GoLauncherEX.
Lock/Unlock the Wallpaper from being changed.
Images below, courtesy of the developer.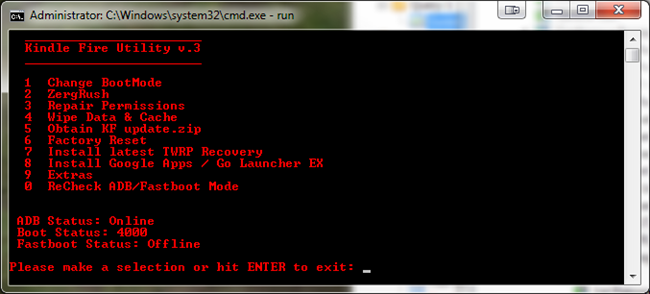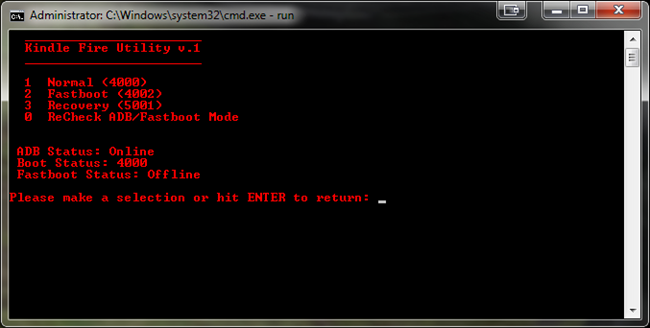 So how would you go about using this tool? No rocket science there, we're sure you already have that figured out. Once the device is connected you're good to go with the various features that you can initiate simply by pressing the corresponding number (1, 2, 3, 4…) as seen in the tool window.
Needless to say, some features will require your kindle fire to be rooted to work, such as recovery installation, market installation and more. For updates and queries regarding this tool, head over to the forum thread at XDA-Developers.
Download Kindle Fire Utility v6