Redsn0w 0.9.10b4 & Corona 1.0-5 Released, Include iBooks Fix For Untethered Jailbreak
The infamous jailbreak tool, redsn0w, has just been updated to version 0.9.10b4 (beta 4), incorporating the much awaited fix for iBooks for untethered jailbroken A4 devices. At the same time, Chronic Dev Team's Corona Cydia package has also been updated to version 1.0-5, bringing the same fix for devices jailbroken using the said package. The updates are compatible with all devices that were supported originally, which includes all A4 devices (iPhone 4, iPhone 3GS, iPod Touch 3rd and 4th gen, and iPad) running iOS 5.0.1. Details after the break.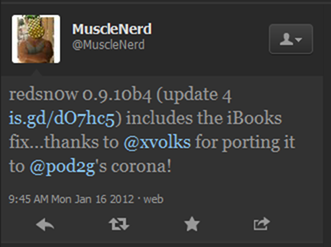 In case you didn't know, before the fix was released, while redsn0w was able to jailbreak your A4 iPhone & iPod touch, and worked on iPad, it rendered you without the ability to use iBooks for your reading appetites. Considering the iPhone 4's retina display, which is remarkably good for reading and doubling up your device as an ebook reader, and the iPad's large screen real estate, it was a shame to see that such a critical (at least for some) app was left useless. Although there were alternative fixes available in the Cydia store, something coming from the jailbreak gurus themselves not only feels more reliable and welcome, but also saves one additional step to get something working that shouldn't have been broken in the first place.
Redsn0w 0.9.10b4 not only addresses the iBooks issue for jailbroken devices, but also fixes some sporadic problems with launchctl, which was left malfunctioning in the previous releases. Hopefully, this should put to ease some of the qualms that untethted jailbreak users had with the previous releases of these tools, and bring more functionality back to their devices.
Using the tool is simple. If you're already jailbroken untethered on iOS 5.0.1, simply run redsn0w (in administrator mode for Windows) again over your existing jailbreak, and deselect "Install Cydia" when asked. If you're still missing out on the jailbreak for any reason, you may want to check out our detailed, step by step guide on gaining untethered jailbreak on iOS 5.0.1 for A4 devices using redsn0w.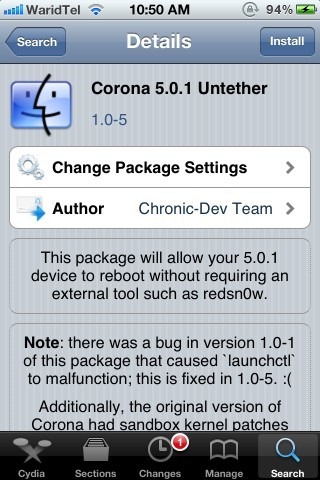 Alternatively, you may choose to install the updated Corona 5.0.1 Untether package from Cydia, which incorporates the same fixes as redsn0w, providing an easier approach since you won't have to use a PC or Mac at all. You may also want to check out our guide on Corona 5.0.1 Untether.
Issues like these are not unheard of with jailbreaks, since it is natural to take some time in getting the coding fixed and up to speed. The good thing is, we can always count of the Dev Team to bring us the best, and they've not disappointed this time, either.
Download redsn0w 0.9.10b4 for Windows
Download redsn0w 0.9.10b4 for OS X