Remote Web Desktop For Android Gets Remote Control Add-on
Remote Web Desktop for Android has been around for a while now. Currently, the app's developers are in the process of introducing a bunch of new features to the remote access and control suite and they have sparked it off with the release of a Remote Control Add-on. The add-on provides you with a live stream of your device's display, allowing you to easily and fully control your device with your computer's mouse and keyboard, as you would the interface of an Android device emulator. Once installed, the add-on can be accessed separately from within any Java Applet enabled web browser or from within the main Remote Web Desktop web interface. You must have Java Runtime Environment (JRE) 1.6 and above on your computer and root access on your device to run the add-on.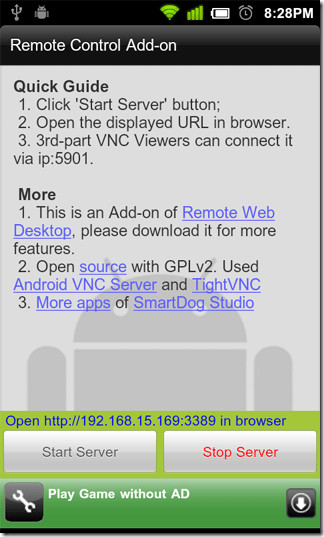 To access the remote control add-on separately from within the browser, simply launch the Remote Control Add-on client from your device's app drawer, tap the Start Server button and enter the web address that appears above it into you browser's URL bar. To access it from within the main web interface, launch Remote Web Desktop from the app drawer and do the same. You must be connected to the same WiFi network as your computer.
Once connected, you can emulate almost all touch screen functions with your computer's mouse, Record the live display stream, edit the device's Clipboard (copied text) and scale down the size of the display (Options > Scaling factor). The hardware keys are emulated by your computer's keyboard as follows:
Home: Home
Back: Esc
Power: End
Menu: F1
Track ball: Arrow/direction keys
Search: Any character key
Testing the device on an HTC Desire running a custom MIUI ROM, we were unable to make invoke the Menu hardware key function with the F1 key.
This add-on is one of four expected additions to Remote Web Desktop, the other three being remote access to Contacts, Notes and device Settings. Currently, the app provides you with remote access to your Android device's internal and external storage (File Explorer and FTP Explorer), the option to read/delete received SMS/MMs and sending new ones (Messaging), use your device as a WebCam, editing the device's clipboard (Shared Clipboard), use your computer's keyboard to enter text on your device (WiFi Keyboard) and the freshly added remote control.
You can download both Remote Web Desktop and its Remote Control Add-on from the Android Market for free via the provided link or QR code.
Download Remote Control Add-on For Remote Web Desktop