Root Sony Ericsson Xperia X8 With SuperOneClick
One click rooting apps have proved to be a blessing for most of the Android owners. These type of rooting applications give you root access of your device in the most pain-free way you can imagine. One particular hard nut to crack was Sony Ericsson Xperia X8, which was rootable, but required the user to have good grip of ADB and command line methods.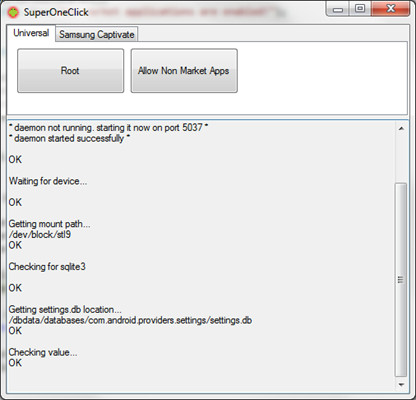 Follow these instructions to root your Xperia X8 with SuperOneClick root.
The first step is to download SuperOneClick.Zip file from here and save it on your desktop.
Once done, connect your phone to the computer.
Now enable USB Debugging mode on your computer by launching Settings > Applications > Development. Checkmark the first option that is "USB Debugging".
Once you have enabled USB debugging, Unmount SD Card. Go to Settings > SD Card, USB Mass Storage And Phone Storage and checkmark Unmount SD Card.
Now extract the exe file from SuperOneClick folder that we downloaded in Step 1.
Once extracted, double click the file to execute.
Now simply press root and wait for the procedure to finish. It will take around 5 to 10 minutes to root you phone so hang in there.
And there you go! You now have root excess of your phone meaning that you can install all those apps which require you to have root, along with flashing custom ROMS and planting recovery images etc.
Disclaimer: Please attempt this guide at your own risk. AddictiveTips won't be responsible in case your device bricks or any other damage occurs due to this method.