SD Maid For Android Keeps Your SD Card & Internal Memory Junk-Free
Just like in any operating system, certain Android apps tend to forget to clean up after themselves when they're uninstalled. Which is why, after testing and uninstalling apps for a while, many Android users find their SD cards cluttered with app residues. Thankfully, Android users have plenty of junk cleaners at their disposal, which help you get rid of any app leftovers with minimal fuss. While certain solutions are quite comprehensive in their respect, others focus on minimalism. SD Maid is a free, handy system cleaner tool for rooted Android devices that not only helps you get rid of said residues (fittingly termed "corpses" in the app's UI) but also keeps your internal memory squeaky clean. The freeware allows you to scan for and clean discarded or unwanted files/residues on your SD card as well as temporary files, cache files, logs and more from the system.
Unfamiliar with the term 'root'? Why not follow our detailed guide on Android rooting to find out about it, and see if your device can be rooted or not? Even if you don't have a rooted device, you can still benefit from the app's certain features; however, the true power of SD Maid is unleashed once you use it on a rooted device.
SD Maid scans for residues in the /data/data and /mnt/sdcard/Android/data/ directories common to all Android devices and those in the /dbdata/databases/ directory exclusive to Samsung Android devices. Tap Refresh from within the respective Corpse finder tab to scan mentioned directories. Corpses can be deleted selectively by tapping scan results one by one or all at once by tapping the Clean all button.
The Clean system tab allows you to scan (selectively/collectively) for and clean unwanted system files, which, as of this writing, include logfiles, stacktraces, caches, incomplete downloads, temporary files, Windows thumbs.db, Windows desktop.ini, MacOs .DS_Store, MacOS ._* files and gallery thumbnails.
The app does not scan for all mentioned files by default. To add or remove files from the Clean system scan list, hit the Menu button and tap Settings.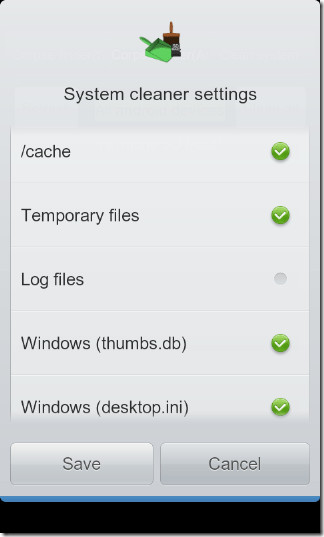 In all, SD Maid is a compilation of 12 powerful tools, 10 of which are available in the free version, whereas to get your hands on the other two (advanced features), you'll have to purchase the full version of the app for $2.2.5. Both the variants are available in the Android Market, and can be downloaded via their respective links provided at the bottom.
Download SD Maid For Android (Free)
Download SD Maid Pro For Android (Paid)