Shoot Photos With Funny Overlay Effects Using Funny Faces For WP7
Microsoft Research launched a fun-oriented Windows Phone 7 app pretty recently, named Face Swap. That app allowed user to choose a photo having two people, and then exchanged their faces with each other. Funny Faces makes changing faces a whole lot funnier and better. The app is based on augmented reality, and acts as a camera that overlays funny effects on the faces found in any view. There are some hilarious effects offered by Funny Faces, and you can find out all about them by heading past the break.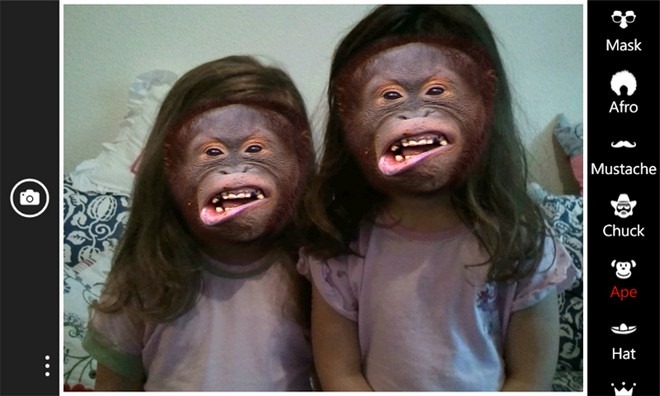 To start using Funny Faces, just launch the app, point the camera at your victim and wait for the app to detect their face. The app's face recognition is extremely good, and it usually detects a face in no time at all. The options for masks which can be overlaid over a face are listed in the bottom bar, and range from Chuck Norris to Ape face, and there are a few accessories available as well, like hats and mustaches. The best thing about Funny Faces, is that you can use more than one effects in conjunction, so you can put a hat over a troll face and then shoot the photo.
Once a photo has been shot with proper face detection, you can add effects afterwards as well. This makes it really easy to make adjustments after shooting as well. The camera in Funny Faces comes with a few customizable options as well, and you can use the flash from within the app, as well as toggling autofocus on and off. Once you are satisfied with the editing, there is the option to save the picture to the Pictures hub, or you can share it straight away. The sharing options include Twitter and Facebook, while if you want to email your handiwork to anyone, you will have to do so by mailing it from the Saved Pictures menu. One thing which can make Funny Faces even better, would be the addition of the functionality to import photos to the app as well, so you will be able to make changes to pics not shot with the app's camera.
Funny Faces is not a new addition to the Marketplace, as a paid version (worth $0.99) has been around for some time. However, recently the app got a free version, which comes with full functionality, although with the setback of being ad-supported.