Super Keyboard Automatically Turns What You Type Into "Alien Text" [Android]
Looking for a handy keyboard replacement for Android? Try Super Keyboard – yet another alternative keyboard for Android that combines text input capabilities of most of the other free/paid custom keyboards available in the Android Market. With as many as three different keyboard layouts (Full, Compact, T9) and an option to quickly switch between the two preferred ones, fully customizable keyboard themes, option to set separate custom backgrounds for landscape and portrait keyboard layouts, multi-lingual and TTS support, contact dictionary, text selection/navigation keys, gesture-based navigation, added symbols/dingbats, and the best of them all, Alien Text, Super Keyboard certainly packs enough features and a hassle-free typing experience to warrant a download.
Although we've seen most of the aforementioned features in various other keyboard replacement apps, such as, Type Smart and Perfect Keyboard, one has to admire the ease and swiftness that Super Keyboard provides.
Most of the keys/features are easily accessible, predictions are usually accurate, and the extensive customization options that come with the app let you set up your preferred keyboard layout.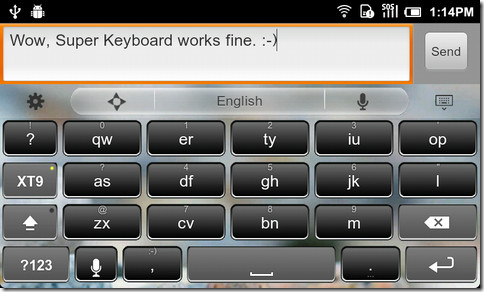 While in text selection mode, you can use the navigation keys to hover around, select the desired text and apply various functions such as Cut, Copy, Paste, Clear from within the keyboard.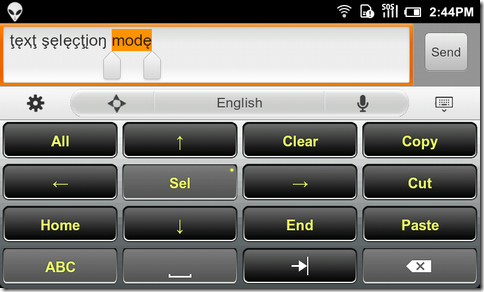 The Alien Text feature, if enabled, automatically turns your text into a readable combination of characters and the alphabet, thereby adding a bit of flair to it. To use this feature, navigate to the Super Keyboard settings > General settings > Alien Text and pick from a text style of your liking.
From within the app's Settings menu, you can specify your default and secondary keyboard layouts, enable moving cursor on keyboard via volume keys, change/download keyboard themes, add words in the keyboard's dictionary, enable contact dictionary, toggle sound/vibration settings, modify speech input/gesture settings and customize the entire keyboard layout as per your convenience.
The keyboard replacement isn't the best one out there but it does pack certain unique features that make it worth a try.
Download Super Keyboard Free for Android
Download Super Keyboard Pro for Android (Paid)